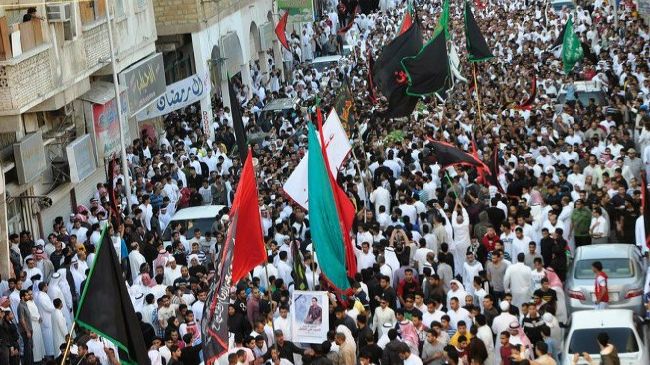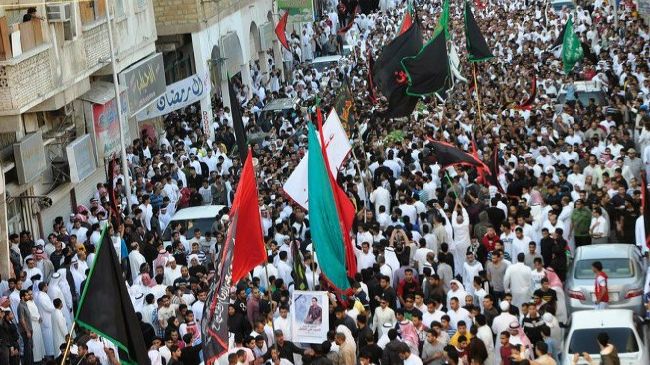 Thousands of people in Saudi Arabia have taken to the streets in the Qatif governorate of Eastern Province to mourn the death of two anti-government activists killed by Saudi forces.
The funeral procession in the town of Awamiyah in the Eastern Province turned into an anti-government protest on Tuesday.
The protesters hold the Riyadh government responsible for the killings.
The anti-regime activists were killed on February 19 when government forces supported by armed vehicles stormed the town. According to government sources, two police officers were also killed during clashes on the same day.
Demonstrators called the day 'the Bloody Thursday,' denouncing the authoritarian royal rule and calling for democracy.
The move has been considered as part of a fresh crackdown on anti-regime protests in Saudi Arabia.
One day earlier, a Saudi court sentenced seven people to jail terms of up to 20 years for taking part in protests in Qatif.
Human rights groups have censured the verdicts and called on Saudi authorities to release the detainees.
The men were also convicted of chanting slogans against the government as well as possession and making of petrol bombs and throwing them at the security forces.
Eastern Province has been the scene of violent clashes between anti-government protesters and Saudi forces for some three years. Several people have died in the crackdown on protests.
Saudi Arabia has strictly banned any gatherings across the kingdom.