World News
1000s rally in Tokyo calling on Japan's PM to resign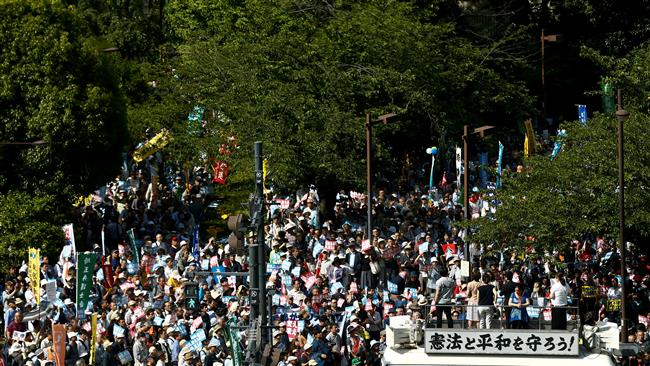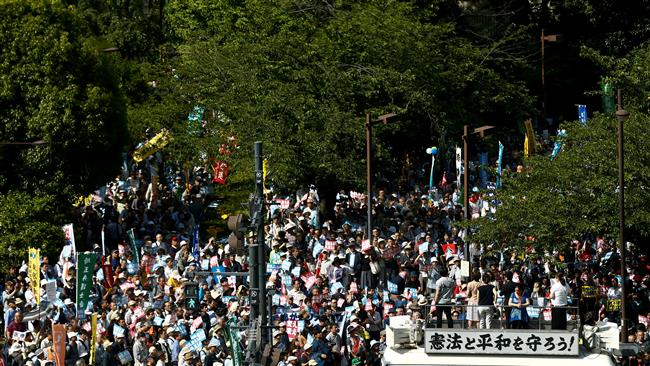 Thousands of protesters in Japan have taken to the streets in the country's capital, calling for the resignation of Japanese Prime Minister Shinzo Abe over his policies.
On Sunday, Japanese protesters, many of them elderly people, flocked in their thousands to the Japanese parliament in Tokyo, holding placards and chanting slogans such as "Step down, Abe government" and "Citizens change politics."
The organizers of the protest rally put the number of the participants at 40,000. Police declined to offer a number.
The demonstrators expressed their grievances about the Abe government's attempts to push a controversial law that would allow the Japanese military to engage in wars overseas.
In September last year, Japanese lawmakers in the upper house of the parliament approved amendments that fundamentally reshape the country's current constitution, which has been in place since the Second World War and stresses non-intervention in foreign military conflicts.
Abe and his ruling Liberal Democratic Party have faced fierce criticism over the controversial reforms.
Back in December 2015, the Japanese cabinet approved the largest ever annual defense budget of 5.05 trillion yen (USD 41.8 billion).
Premier Abe and other supporters of the reforms argue that the new legislation is necessary to deal with a changing security environment and threats posed by regional countries that are expanding their military and nuclear capabilities.
Opponents, however, say the legislation threatens Japan's pacifist image. They also say the legislation allows the country to join wars waged by the US and its allies.
In elections scheduled for July 10, opposition parties in the East Asian country hope to prevent the premier's ruling coalition from regaining the majority of the seats in the 242-member chamber.
Abe's government has recently been under fire for a number of issues, including economic and funding scandals.