North America
100s of bodies of New York COVID victims still inside freezer trucks since April
The bodies of nearly 700 people who died in New York City during the COVID-19 surge in the spring are still stored in freezer trucks, US media reports say.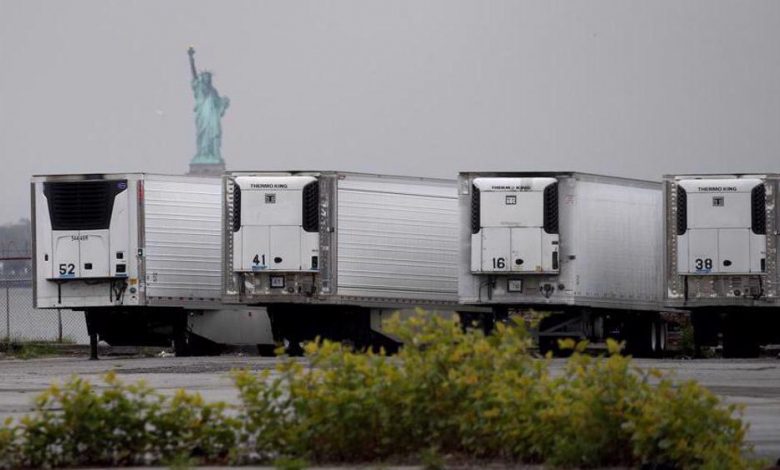 Most of the bodies are of people whose families can't afford a proper burial or can't be located.
When officials have successfully contacted relatives, the bodies have remained in the freezer trucks at a disaster morgue due to financial reasons, The Wall Street Journal said.
The makeshift morgues were created in April, when New York City was contending with the coronavirus that shut down the metropolitan as virus cases and deaths spiked.
On April 1, New York City recorded more than 83,000 infections and 1,941 deaths.
But Mayor Bill de Blasio said in April that mass burials wouldn't take place following reports that New York City was considering the use of temporary graves.
A NYC forensic-investigations department spokesman said it wasn't equipped to deal with the surge in deaths that came during the spring coronavirus pandemic as it was built to manage around 20 deaths a day.
However, the COVID-19 pandemic's peak saw the unit inundated with as many as 200 new cases each day.
A medical examiner's office spokesperson said Backlogged cases resulted on some families going weeks or months without knowing a loved one died.
A New Yorker woman told Wall Street Journal she learned about the death of her husband nearly three months after he died of the coronavirus.
In April, footage emerged of workers burying dozens of bodies in a mass grave in New York as the number of fatalities from the coronavirus grew rapidly.
The mayor had claimed in April that mass burials wouldn't take place following reports that New York City was considering the use of temporary graves.
White House plans parties as Americans urged to stay home
Meanwhile, the White House plans to hold indoor holiday parties despite the surge of COVID-19 the advice of public health professionals urging Americans to sacrifice their normal holiday gatherings to curb the spread of the coronavirus.
President Donald Trump's wife Melania plans to hold a holiday reception on Nov. 30, according to an invitation obtained by ABC News.
Health professionals within the administration have advised against large indoor gatherings.
"We want everyone to understand that these holiday parties can be super spreader events," US Surgeon General Jerome Adams said on Monday, urging celebrations to be held outdoors with as few people as possible and pointing to recommendations by the US Centers for Disease Control and Prevention.
The White House has held a series of events in recent months linked to a rash of outbreaks, including Trump's own contraction of COVID-19 from late September into early October. A White House aide and four others have tested positive in recent days.
The number of confirmed coronavirus cases in the US is approaching 12,400,000.
According to the Johns Hopkins University tally, the virus has claimed over 257,000 American lives.
US coronavirus hospitalizations have surged nearly 50 percent over the past two weeks.
New York Governor, Andrew Cuomo, said hospitalizations have spiked over 120 percent in the state over the past three weeks.
Local public schools closed and switched to complete remote learning after COVID-19 hospitalizations in New York City reached 60,547 and the citywide seven-day average was 3.07 percent on Thursday.