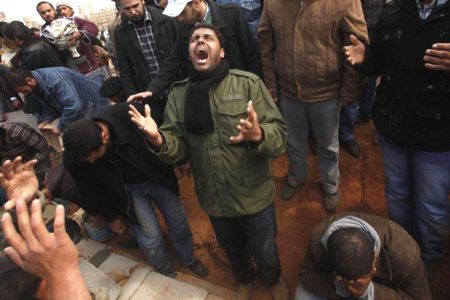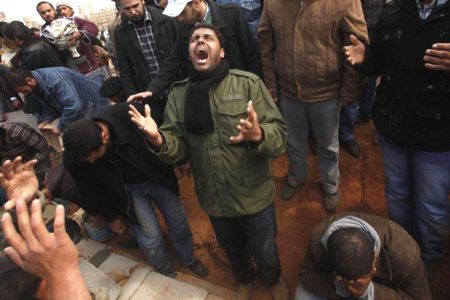 Libya says at least 114 people, including several civilians, have been killed and 445 others injured in a week-long campaign of US-led military airstrikes in the oil-rich country.
"From March 20 to March 23, the attacks have killed 114 people and injured 445 people," the Libyan State TV quoted Libyan Health Minister Khaled Omar as saying at a press conference in Tripoli on Saturday.
According to government figures, 104 people were killed in the capital Tripoli — the city of 2 million that is most firmly in Gaddafi's grip and some other suburbs — while another 10 civilians lost their lives in Sirte, the hometown of the Libyan strongman.
Meanwhile, on the eight day of the US-led military operations on Saturday, the British, French and US warplanes hit civilian and military sites in Tripoli and Zliten. Several large explosions were heard in Tripoli.
The situation in Libya's third-largest city, Misrata, which is some 210 km (130 miles) east of Tripoli and has a population of more than half a million, is much worse than the other areas.
On Thursday, the Western alliance's fighter jets shelled targets in southern Libya, but failed to staunch the flow of Libyan regime tanks re-entering the city, whose main hospital was reportedly under heavy siege by armor and pro-Gaddafi snipers.
Medics say at least 109 people have been killed and injured in the northwestern city of Misrata during a week of clashes between forces loyal to Muammar Gaddafi and opposition fighters.
According to US military officials, more than 350 aircraft are participating in the US-led campaign of military airstrikes in Libya.
The rising civilian death toll in Libya has set off a frenzy of speculations about the real motive behind the war in the oil-rich country, with many analysts saying that under the guise of protecting civilians, as enshrined in the UN Security Council resolution 1973, Washington and its Western allies are basically after the North African country's vast oil reserves.