Asia-Pacific
India
20 killed amid Indian military's fight against suspected militants in Kashmir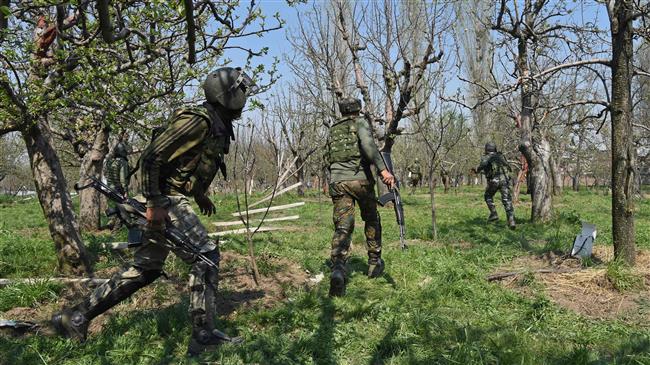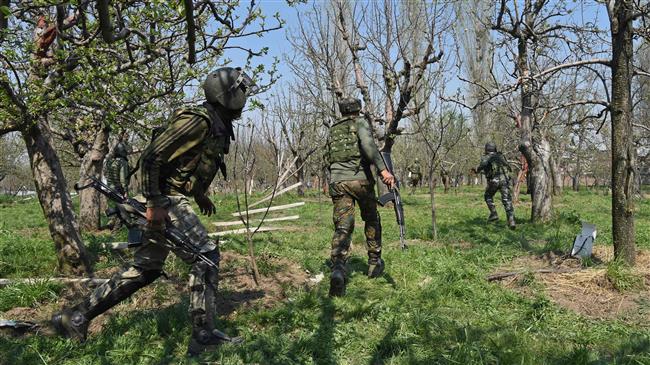 At least 20 people have lost their lives in Indian-controlled Kashmir in a number of fierce gun battles between Indian security forces and suspected separatist militants in the restive Himalayan region.
Three simultaneous counter-terror operations in Shopian and Anantnag districts of Jammu and Kashmir, in southern parts of the volatile region, which were launched late Saturday and continue, have so far killed 13 suspected militants.
According to Indian police on Sunday, three members of security forces also lost their lives in the fighting and four civilians were killed in ensuing violent protests held by locals against the operations.
Reports said over 50 people who had marched toward encounter sites sustained injuries. The Indian military said of the wounded civilians, 25 people received pellet injuries and six received bullet wounds.
It is expected that the death toll rises as fierce gun battles between security forces and suspected militants continue.
There were also demonstrations in Srinagar, where authorities ordered all schools shut on Monday as separatist groups called for protest rallies.
Tensions are high in the Indian-controlled region, where the Muslim-majority population stages regular protests against the Indian rule and demands autonomy from New Delhi.
India regularly accuses Pakistan of arming and training militants and allowing them across the restive frontier in an attempt to launch attacks on Indian forces. Pakistan strongly denies the allegation
Last year was the deadliest of the current decade in the disputed Kashmir region, with more than 200 militants killed in a counter-insurgency offensive dubbed "Operation All Out."
Kashmir has been divided between India and Pakistan since their partition and independence from Britain in 1947. The disputed region is claimed in full by both sides, which have fought three wars over it.
Despite a ceasefire agreement that was reached between India and Pakistan in November 2003, sporadic skirmishes continue in Kashmir.
Armed battles between Indian forces and militants over the years have killed nearly 70,000 people, mostly civilians.
Kashmiris have been demanding that the region be given independence or be merged with Pakistan.
New Delhi has deployed some 500,000 soldiers to the disputed region to further boost the security of the borderline and enforce a crackdown on pro-independence demonstrations in its share of Kashmir, where anti-India sentiments are high.