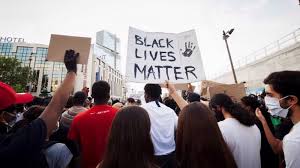 Nearly 20,000 protesters have defied a ban on public gatherings in the French capital of Paris to demonstrate against police brutality in France over the 2016 death of a black man in police custody, inspired by rallies in the US against racism and police violence.
Clashes between protesters and police officers erupted during the massive rally in Paris on Tuesday as rally participants used slogans from the American anti-police brutality movement to demand justice for 24-year-old Adama Traore, whose death after being brutally detained by police officers four years ago turned into a rallying point against police violence in France.
Many protesters drew inspiration from the nationwide protest movement across the US that erupted following the killing of African American George Floyd by a white police officer in the northern city of Minneapolis last week.
Many of the French demonstrators carried placards that read in English "Black Lives Matter" and "I can't breathe."
The 46-year-old Floyd died on May 25 after the police officer arresting him pressed his knee on his neck for nearly 9 minutes while he continually gasped, "please, I can't breathe," triggering massive rallies and clashes with police in major cities throughout the US.
Earlier on Tuesday, Traore's elder sister, Assa, addressed the large crowd of protesters, saying, "Today, we are not just talking about the fight of the Traore family. It is the fight for everyone. When we fight for George Floyd, we fight for Adama Traore."
"What is happening in the United States is an echo of what is happening in France," she said.
Protest rallies against French police brutality were also held in other cities across France, with 2,500 taking part in a rally in the northern city of Lille, nearly 2,000 in Marseille, and 1,200 in Lyon, according to the AFP.
French interior minister slams protesters
This is while French Interior Minister Christophe Castaner censured the massive protest rally in France in a Twitter message, proclaiming that "violence has no place in a democracy."
"Nothing justifies the behavior that took place in Paris this evening, when protests on public streets are banned to protect everyone's health," he said.
The Paris protest began late afternoon outside a court in the north of the city before projectiles were tossed and police officers used tear gas to disperse the crowd.
Sporadic clashes then broke out near the city's main ring road, with stones thrown at police forces, who responded by firing rubber bullets.
Some protesters also burned bins, bicycles, and scooters to set up flaming barricades on the streets.