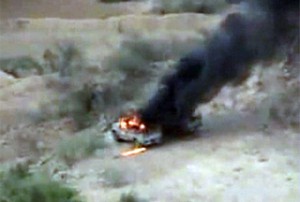 Three Saudi soldiers have been killed and an unidentified number of others wounded in an attack by Houthi fighters in the border area of Jebel Rumayh.
Houthi resistance fighters in Yemen say the casualties were inflicted on the Saudi forces in an operation following a heavy overnight air raid by Saudi aircrafts.
The Saudi daily Asharq Al-Awsat , however, reported that the soldiers died on Saturday in an attack by "infiltrators" in the Jebel Rumayh area.
The daily also claimed that Saudi forces "inflicted heavy losses in equipment and lives on the infiltrators."
The resistance fighters however said in a Saturday statement that they had repelled two Saudi attacks inside the Yemeni territory.
"Today, two incursions into Yemen by the Saudi army were repulsed near the Jebel Rumayh region, and a number of aggressors were killed and others wounded," the statement said.
The incursions came after Saudi Arabia carried out the heaviest aircraft and missile bombardments since its entry into the conflict, it said.
The aircrafts heavily bombarded the areas of Hidan, Razah, Shedah and Malahidhd.
Riyadh launched its offensive against the Houthi fighters more than two months after the Yemeni government launched its 'Operation Scotched Earth' to crush the Houhti resistance in the mountainous north.
The Saudis have said that the air strikes and shelling will continue until the fighters withdraw dozens of kilometers (miles) from the Saudi-Yemeni border.
The offensive has so far left thousands of civilians displaced from their homes and scores of others killed.