Europe
35 killed in Ukraine RPG attack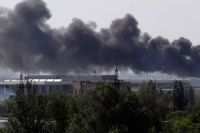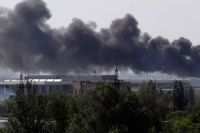 At least 35 people have reportedly been killed as a truck carrying injured people was hit by a grenade in Ukraine's eastern city of Donetsk.
According to AFP, the truck was attacked on Monday while intense fighting broke out in eastern Ukraine as government air and ground forces assaulted pro-Russian protesters.
The fighting erupted after armed men who identified themselves as representatives of the Donetsk People's Republic seized the Sergei Prokofiev International Airport.
According to Donetsk's Governor Pavel Gubarev, a rocket propelled grenade hit the truck, marked as an ambulance, which was transporting injured people from the airport.
A Ukrainian security official confirmed that fighter aircraft started targeting positions of pro-Russia protesters in the airport on Monday, with two Sukhoi Su-25 jets carrying out strafing runs.
At least one person was also killed during clashes at Donetsk's main train station, and two people were reportedly killed in Slavyansk as government helicopter gunships attacked residential areas.