North America
60 arrested near Supreme Court as thousands nationwide rally against Kavanaugh nomination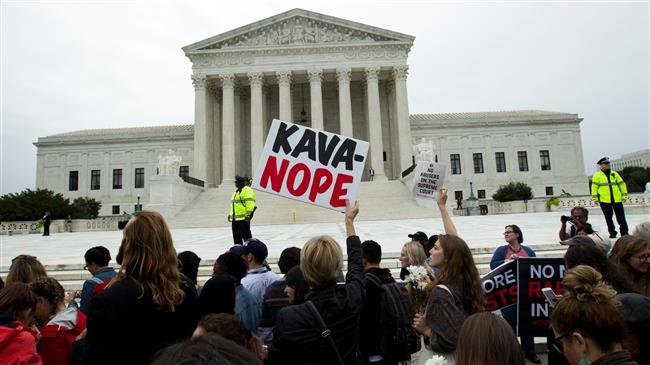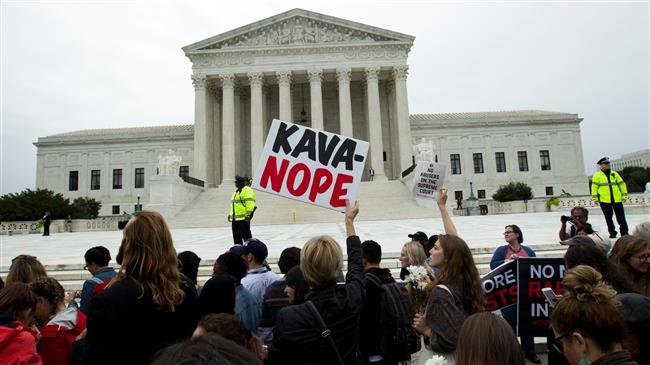 Police in Washington have arrested nearly 60 people who were protesting against the nomination of US President Donald Trump's embattled Supreme Court nominee Brett Kavanaugh to the country's Supreme Court.
US Capitol Police, which is responsible for protecting Congress, said Thursday that 57 of the protesters were arrested for "unlawful demonstration activities" and another two in the same location were arrested and charged with crossing a police line.
The arrests in the nation's capital not far from the steps of the high court came as thousands rallied across the country in solidarity with female university professor Christine Blasey Ford, whose accusations against Kavanaugh has provoked outrage on both sides of the controversy.
Anti-Kavanaugh protesters wanted to "make sure our voices are heard and our concerns are raised and to make sure senators understand that while they may still vote to confirm him, we will not forget when it comes to the midterms (congressional elections) and beyond," Women's March co-founder Tamika Mallory told USA TODAY.
Survivors of sexual assault and their supporters gathered in Washington and in locations across the nation, including state offices of US senators, to share testimonies of assault.
US President Donald Trump's SC nominee denies charges of assaulting Christine Blasey Ford more than three decades ago.
In Washington, a crowd of protesters marched to the Capitol, raising their fists and palms in the air, bearing the phrase "Believe Women" or "I Believe."
More than 1,000 demonstrators repeatedly chanted, "We believe Christine Ford, we believe Anita Hill," undeterred by rain.
The protesters then marched to the Supreme Court, chanting, "No means no, Kavanaugh has got to go." Dozens blocked streets near the court, hoping to be arrested.
Conservative groups in support of Kavanaugh also carried out counter-protests around Capitol Hill.
Kavanaugh, 53, has been accused of sexual misconduct by two other women as well. He has strongly denied the accusations.
Christine Blasey Ford has accused Kavanaugh of sexually assaulting her during a party in 1982 when they were high school students in the state of Maryland near Washington, DC.
Ford, a psychology professor at Palo Alto University and researcher for Stanford University, said at a hearing at the Senate Judiciary Committee on Thursday that during the alleged incident, she thought Kavanaugh was going to rape her and perhaps accidentally kill her.
An angry, defiant and openly emotional Kavanaugh appeared at the Judiciary Committee after Ford, launching a tirade against Democratic Party senators who backed Ford's allegations,
The hearing, which has engaged Americans and intensified the political polarization in the United States, occurred amid the #MeToo movement against sexual harassment and assault.