Lebanon
7 charged over Lebanon bombings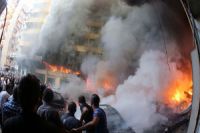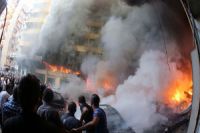 Lebanese's State Commissioner to the Military Court Judge Saqr Saqr has charged seven people over bombings in the country's northern city of Tripoli. According to Press TV, on Monday, the judge filed a lawsuit against Youssef Diab, Hussein Jaafar, Anas Hamzi, Hayyan Ramadan, Ahmad Merhi, Khodr Jdoud and Salman Assaad, referring them to the Military investigative Judge Riad Abou Ghida for necessary legal action.
Reports say that three of the charged people — Youssef Diab, Anas Hamzi and Hussein Jaafar– are in custody, while the rest are at large.
These seven people have been charged with "terrorist" activities and "bombings."
On August 23, at least 42 people were killed and over 500 others were injured in explosions outside two mosques in Tripoli.
The blasts were the deadliest attack in Lebanon since the end of the civil war in 1990.