Afghanistan
Asia-Pacific
Afghan forces battle to stop Taliban from advancing on provincial cities
Violent clashes between the Taliban and Afghan government forces are surging across Afghanistan, with President Ashraf Ghani blaming the worsening security situation on the ill-planned and "sudden" withdrawal of American troops.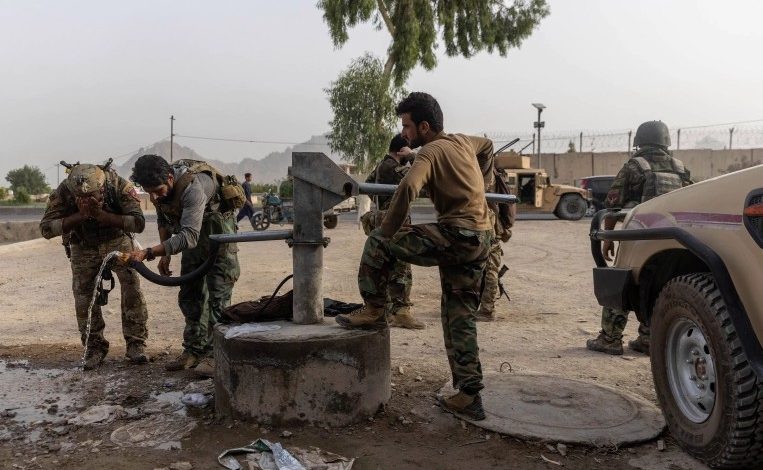 Afghan government forces battled Monday to stop several provincial cities from falling to the militants. Afghan army commandos have been stationed in the center of Lashkar Gah city, capital of Helmand province, and home to several large military bases.
Ground and air forces managed to repel a Taliban offensive in the city, the Afghan military said.
According to local sources in Hawa Malalai district, the fighting has caused power cuts, disruption of telecommunication networks, and shortages of medicines.
Lashkar Gah is one of three Afghan cities in danger of being overrun by the militants.
Fierce fighting also broke out in parts of the capital of neighboring Kandahar province, a former Taliban stronghold, where the international airport was closed on Sunday due to a rocket attack.
Afghan security forces spokesman, Ajmal Omar Shinwari, described the current status in Afghanistan as an "emergency situation."
President Ghani also blamed the "abrupt" US withdrawal for the deteriorating security situation.
Addressing the parliament, Ghani said that "the reason for our current situation is that the decision was taken abruptly," adding that he had warned Washington the withdrawal in this manner would have "consequences."
"We have had an unexpected situation in the last three months," the president complained, adding that the Afghan government plans to bring the situation under control within six months.
Meanwhile, amid the worsening security situation in the war-torn country, troops from Russia and Uzbekistan began joint military exercises on Monday near the Afghan border.
According to the Russian government, 1,500 Russian and Uzbek military forces would take part in the five-day exercises that began at the Termez military site in Uzbekistan.
Russia said it will send a larger military contingent to Tajikistan to conduct a separate trilateral drill.
Moscow is concerned that the violence in Afghanistan could destabilize Russia's southern defensive flank and push refugees into Central Asia.