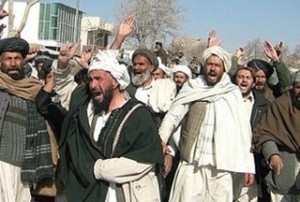 At least one person has been killed during the fourth consecutive day of anti-NATO demonstrations in Afghanistan's central province of Ghazni.
On Sunday, police opened fire on angry Afghans that took the streets to condemn the killing of civilians by foreign troops in the country.
Once again the protesters blocked the main road connecting Kabul, the capital, located east Afghanistan, to Kandahar, the capital of Kandahar province, located south of the country.
The protesters in the district of Qarabagh in Ghazni Province let out their anger against the killing of four innocent civilians, including two children aged 11 and 15. The four civilians were killed in Qarabagh on Wednesday.
With nearly 2,500 civilian's dead, 2009 has been named by the UN as the deadliest year for Afghan civilians.