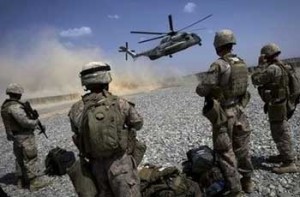 Severe combat and multiple deployments are taking a heavy psychological toll on US soldiers in Afghanistan, the country's army says.
According to the army's latest mental health survey, soldiers said unit morale in Afghanistan had declined as the frequency of fighting had increased; suggesting record combat deaths and injuries were taking a heavy psychological toll.
The survey found that some 21.4 percent of lower-ranking enlisted male soldiers, the group that generally experiences the most combat time, had mental health problems defined by army medical teams as anxiety, depression or acute stress. That compares to 23.4 percent in 2007 and 10.4 percent in 2005.
Soldiers in Afghanistan with three or more deployments experienced higher rates of mental health and marital problems than those with fewer tours, the report added.
In contrast, the mental heath of US forces in Iraq appeared to be improving as violence declined and the military prepared for a gradual withdrawal.
The findings are released as President Barack Obama is moving closer toward a decision to send up to 40,000 more troops to Afghanistan.