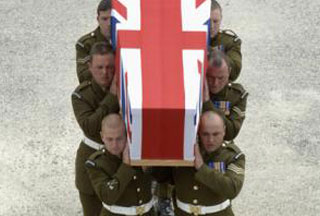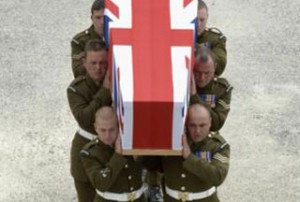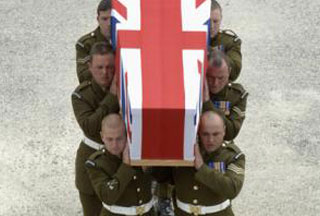 Roadside bombs and gun battles have left two more UK soldiers killed in Afghanistan, bringing to 212 the overall British fatalities in the war-ravaged country.
The two British soldiers were died in separate incidents in Afghanistan's southern province of Helmand.
One soldier died from a gunshot wound sustained on foot patrol. The other was killed after his vehicle was hit by a bomb.
The Ministry of Defense says both soldiers were operating with the Light Dragoons Battle Group in the province.
The deaths bring the number of British fatalities to 212 since the U-S-led invasion in 2001.
The insurgency has intensified in the eastern and southern provinces where the foreign troops have lost several grounds to the Taliban-linked militants over the past months.
In a separate development, a key aide to the British defense secretary has resigned over the war in Afghanistan.
Eric Joyce, who served as the parliamentary private secretary to the defense secretary, has criticized Prime Minister Gordon Brown's handling of the war.
He says the fatalities of British troops cannot be justified simply by referring to what he called the risk of greater terrorism.
Joyce also criticized other NATO allies for doing far too little.
There are currently more than 100,000 international soldiers in Afghanistan.
The US-led force lost 77 more troops there during August, setting a new monthly casualty record since the occupation began eight years ago.
Pressure is mounting on the US and its western allies to pull out troops from the violence-wracked country amid growing troops causalities.