American Awakening
Awakening
Human Rights
North America
African Americans disproportionately die from police Tasers: Analysis
As police confront anti-racism protesters across the United States, they're turning to weapons like rubber bullets and pepper spray meant to minimize fatalities, according to a new analysis.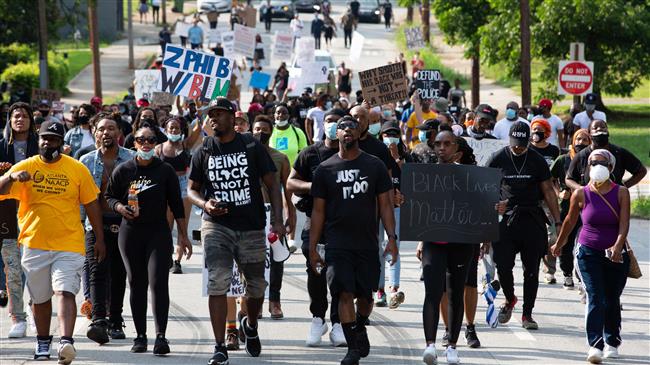 But some police are using Tasers, a weapon that has the potential to kill, and black people make up a disproportionate share of those who die, according to the Reuters investigation.
Reuters documented 1,081 cases between 2000 and 2018 in which people died after being shocked by police with a Taser. At least 32 percent of those who died were black, and at least 29 percent were white.
To put the figures in perspective, African-Americans make up 14 percent of the US population, and non-Hispanic whites 60 percent.
"These racial disparities in Taser deaths are horrifying but unsurprising," said Carl Takei, a senior staff attorney at the American Civil Liberties Union (ACLU).
"Police violence is a leading cause of death for black people in America, in large part because over-policing of black and brown communities results in unnecessary police contacts and unnecessary use of force," Takei added.
Tasers deliver a paralyzing electric shock that temporarily incapacitates a suspect. They have been widely embraced since the early 2000s as a less lethal alternative to firearms.
The Reuters analysis found that many police officers are not trained properly on the risks of using Tasers, and the weapons are often misused. Most independent researchers who have studied the weapon say deaths are rare when they are used properly.
The new report comes at a time when protests over the police killing of George Floyd and other black people have thrown a spotlight on their tactics.
Protests have been held across the US for nearly three weeks in response to the killing of Floyd, who died after a white police officer knelt on his neck for nearly nine minutes in Minneapolis on May 25.
Floyd's death was the latest in a series of killings of African-Americans by police that have sparked anger on America's streets and fresh calls for reforms.
Tasers became the focus of attention this week after the death of Rayshard Brooks on Friday in Atlanta. A white police officer shot the 27-year-old black man with his handgun after Brooks ran away with an officer's Taser following a scuffle.
Civil rights advocates condemned the police killing of Brooks, stating that the Taser didn't justify his shooting, noting that police routinely argue in court that the devices are non-lethal weapons.