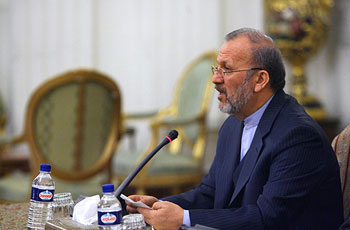 Nearly a week after Switzerland banned the building of minarets on mosques, Iran warns of the rising tide of Islamophobia in some European countries.
In a vote that was seen as "biased" and "anti-Islamic" in the Muslim world, Switzerland approved a constitutional ban on the building of the iconic mosque towers in late November.
Iranian Foreign Minister Manouchehr, in a phone conversation with Swiss counterpart Micheline Calmy-Rey, criticized the move and warned that it would likely to have far-reaching implications, both for the Swiss people and the Muslim minority.
"This move did not befit a country claiming to be a number one advocate of democracy and religious freedom under the Universal Declaration of Human Rights," said Mottaki on Saturday.
"The ban will undoubtedly change Switzerland's image as a leading advocate of human rights," he added.
Mottaki expressed hope that the Swiss government would take necessary action to prevent the implementation of the vote.
Muslims comprise about 6 per cent of Switzerland's 7.5 million people.
In return, Calmy-Rey said she is not pleased with the outcome of the referendum, which according to her, took place despite the strong opposition of the Swiss government and parliament.
According to Calmy-Ray, the sentence banning the construction of minarets, which led to the referendum, was first proposed by the dominant rightist Swiss People's Party (S.V.P.).
She assured her Iranian counterpart that the minaret ban will not lead to "the rejection of the Muslim community, religion or culture."
"Switzerland holds its Muslim population with great esteem and respect," she said.
The vote was instantly condemned by Muslim communities with some arguing that the move will damage Switzerland's international standing as well as its reputation of religious tolerance.
"Most painful for us is not the minaret ban, but the symbol sent by this vote," said Farhad Afshar, who runs the Coordination of Islamic Organizations in Switzerland, in an interview with The New York Times.
"Muslims do not feel accepted as a religious community," he added.