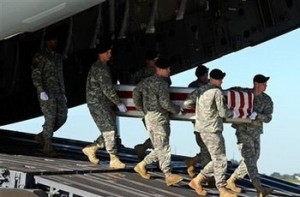 The United States suffered its first fatality in Afghanistan since the announcement of a troop surge in the war-torn country by President Barack Obama.
The US forces' press office in Jalalabad in eastern Afghanistan said on Sunday that an American soldier was killed in a mine explosion in the south of the Nuristan province.
The blast also left two other soldiers wounded. This is the first US fatality reported in Afghanistan since Tuesday, when Washington said 30,000 more troops will be deployed to the country.
Despite the presence of around 110,000 American and foreign soldiers in the war-ravaged country, Afghanistan is still grappling with unprecedented violence.
The news comes two days after the US forces started a fierce land and air operation against militants, codenamed 'Cobra's Anger,' in Helmand province.