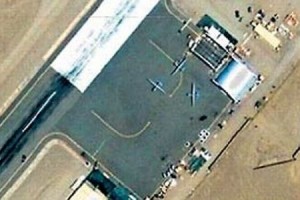 The Great Satan US vacates the airfield following a deadly US-led airstrike against Pakistani troops.
Most of the US military personnel have vacated Shamsi Airbase, which is located in the country's southwest, on Saturday, Pakistan's Geo television reported.
The airbase was used for covert CIA drone strikes in Pakistan's tribal regions and military operations in Afghanistan for nearly 10 years. Pakistani People have staged several protest rallies against the US to leave the site.
An American cargo plane is still parked at the airbase to transfer the remaining personnel and equipment, according to the report.
The US has shifted five spy aircraft from Shamsi airbase to Afghanistan. US officials dismantled fiber-made residential barracks which had been built for military personnel.
Pakistan ordered the evacuation after a US-led airstrike killed at least 24 Pakistani soldiers and wounded dozens of others in Pakistan's northwestern region of Mohmand Agency in November.