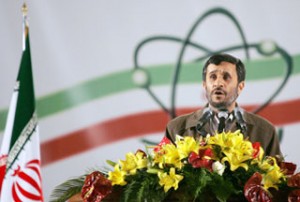 Iran's President Mahmoud Ahmadinejad has said that 'a reasonable oil price' is a way for preserving environment and combating climate change.
Ahmadinejad made the remarks in a meeting with the Secretary General of the Organization of the Petroleum Exporting Countries (OPEC) Abdullah al-Badri on the sidelines of a UN sponsored climate change conference in Copenhagen on Thursday.
According to Press TV's reporter Giso Misha Ahmadi, the president added that there is a need for cooperation among all countries to tackle environment crisis in the world.
Ahmadinejad said that industrial countries buy "low-priced crude" from oil-rich countries and "add to air pollution and harm the environment" by increasing their consumption.
Ahmadinejad also called on OPEC to take measures to preserve the interests of its members.
Al-Badri, for his part, expressed hope that the oil bloc reach an appropriate decision during its December 22 meeting in Luanda, Angola over oil prices in the market.
Ahmadinejad is in the Danish capital to attend climate change conference.