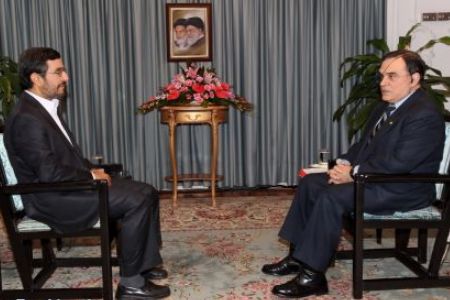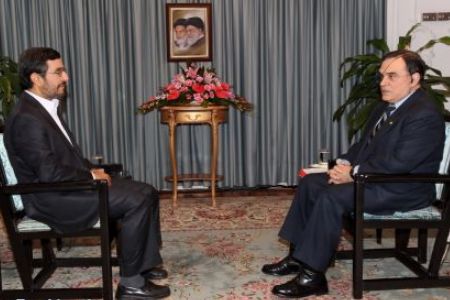 Iran's President Mahmoud Ahmadinejad has once again lashed out at the latest report by the International Atomic Energy Agency (IAEA) on the Islamic Republic's nuclear energy program, describing it as illegal and politically-motivated.
"We are not worried about IAEA's positions against us. The agency's report does not have any legal value. The director general of this agency knows that it is a political report," Ahmadinejad said in a Monday interview with the Venezuelan state TV.
On November 8, the IAEA released a US-sponsored report on Iran's nuclear program, accusing Tehran of pursuing military objectives in its nuclear program without pointing to any verifiable proof .
Iran dismissed the report as "unbalanced, unprofessional and prepared with political motivation and under political pressure mostly by the United States."
President Ahmadinejad also made reference to the recent violation of Iranian airspace by a US reconnaissance drone that was brought down with minimal damage by Iranian air defense units.
"Iranian experts are capable of controlling the US spy drone and will definitely analyze its system," the Iranian chief executive pointed out.
The Iranian Army's electronic warfare unit successfully brought down a US RQ-170 Sentinel stealth aircraft with minimal damage on Sunday, December 4, 2011. The aircraft was flying over the northeastern Iran city of Kashmar, some 225 kilometers (140 miles) away from the Afghan border.
On December 6, two US officials, speaking on condition of anonymity, confirmed to CNN that the drone was part of a CIA reconnaissance mission, involving the US intelligence community stationed in Afghanistan.
They claimed the reconnaissance capability of the RQ-170 Sentinel drone enabled it to gather information from inside Iran by flying along Afghanistan's border with the Islamic Republic.
Following days of silence on the issue, US President Barack Obama asked Tehran on Monday to return the US reconnaissance drone.