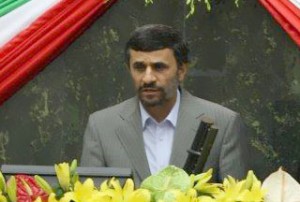 Only days after his inauguration, Iranian President Mahmoud Ahmadinejad says he will submit his new Cabinet line-up to Parliament for a vote of confidence early next week.
"I will introduce the tenth government's cabinet to the Iranian Parliament early next week," President Ahmadinejad was quoted by Fars News Agency as saying.
The Iranian president, however, did not provide a specific date for the announcement.
Ahmadinejad was sworn in on Wednesday for a second four-year term following widespread opposition protests against the result of the June 12 election that granted him a landslide victory.
Despite the opposition's refusal to acknowledge Ahmadinejad as president, Iran's Guardian Council, the body responsible for overseeing the election, disputed all allegations against the validity of the vote.
Leader of the Islamic Revolution Ayatollah Seyyed Ali Khamenei, for his part, formally endorsed the president on Monday.
The newly-installed president has two weeks to set up a government and submit the new Cabinet line-up to Majlis for approval.
Earlier in June, Ahmadinejad announced that the cabinet will undergo "major changes" to comply with the needs of his second term in office.
In line with his decision for major changes, the Iranian president said on Saturday that there will be "an unprecedented number of young people" in the new Cabinet.