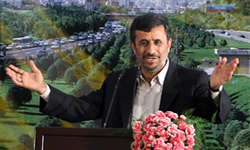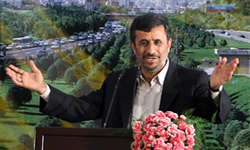 Iranian President Mahmoud Ahmadinejad announced on Sunday that a large number of American and European companies are defying western and international sanctions against Tehran in a bid to win economic projects and boost trade activities in Iran.
Today, many US and European firms are striving bypass sanctions and obstacles to work with the Islamic Republic of Iran," Ahmadinejad said, according to a report released by the presidential office for media affairs on Sunday.
Ahmadinejad further warned the European states that their misconduct in relations with Iran will inflict harm on the European firms as Asian states and companies are rapidly filling the gap.
The Iranian president cautioned that new customers, partners and demands for economic cooperation with Iran is certainly synonymous with a lower chance for Iran-EU economic cooperation.
"The moves made by the European Union on the whole show that the EU is not dominated by a realistic and pragmatic approach and clear-cut wisdom," he added.
Ahmadinejad said "while Europe still has the same share in Iran's oil exports, Asian countries, Iran's neighboring countries in particular, have already overtaken Germany and Italy in non-oil imports from Iran".
"And in (Iran's) imports, the UAE, China and South Korea have promoted their standing in foreign trade with Iran in comparison with Europe," he continued.
Iran is under four rounds of UN Security Council sanctions for turning down West's calls to give up its right of uranium enrichment.
The United States and its allies accuse Iran of pursuing a military nuclear program and have used their influence on the UN Security Council to press for fresh sanctions against Tehran.
Iranian officials have repeatedly refuted the accusations, arguing that as a signatory to the nuclear Non-Proliferation Treaty (NPT) and a member of the International Atomic Energy Agency (IAEA), Tehran has the right to use civilian nuclear technology.
Iran, which sits on the world's second largest reserves of both oil and gas, has dismissed US sanctions as inefficient, saying that it is finding Asian partners instead. Several Chinese and other Asian firms are negotiating or signing up to oil and gas deals.
Following US pressures on companies to stop business with Tehran, many western companies decided to do a balancing act. They tried to maintain their presence in Iran, which is rich in oil and gas, but not getting into big deals that could endanger their interests in the US.
Yet, after oil giants in the West witnessed that their absence in big deals has provided Chinese, Indian and Russian companies with excellent opportunities to sign up to an increasing number of energy projects and earn billions of dollars, they started showing increasing interest to invest or expand work in Iran.
Some European states have also recently voiced interest in investment in Iran's energy sector after the gas deal was signed between Iran and Switzerland regardless of US sanctions.
The National Iranian Gas Export Company and Switzerland's Elektrizitaetsgesellschaft Laufenburg signed a 25-year deal in March 2008 for the delivery of 5.5 billion cubic meters of gas per year.
The biggest recent deal, worth €100m ($147m, £80m), was signed by Steiner Prematechnik Gastec, the German engineering company, this year to build equipment for three gas conversion plants in Iran.
In December 2010, the New York Times reported that over the past decade, United States-based companies have done billions of dollars in trade with Iran despite sanctions and trade embargoes imposed on Tehran.
One American company, the daily said, was permitted to do work on an Iranian gas pipeline, despite sanctions aimed at Iran's gas industry in particular.
The transactions have been made possible by a 2000 law that allows exemptions from sanctions for companies selling food or medical products, the report added.
Iranian officials have always stressed that the International and unilateral sanctions against Iran have had no result but inflicting damage on the European companies.