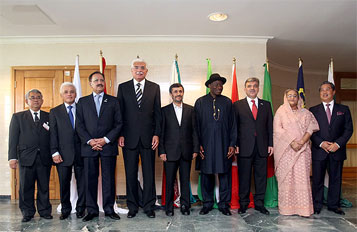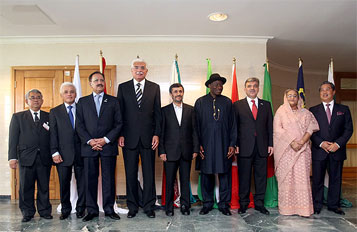 IRI President Mahmoud Ahmadinejad on Friday described his recent two-nation tour of Mali and Nigeria as positive.
Talking to journalists upon arrival in Tehran, President Ahmadinejad said,
"Mali is hub of Africa."
"Mali is a friendly nation that attaches great importance to expansion of ties with Iran," he said.
President Ahmadinejad said Malians know Iran very well and have a close watch to developments in the country.
Iranian President also held talks with his Malian counterpart, Ahmadou Toumani Toure, on issues of mutual interest and visited Ahmed Baba Scientific, Historical and Cultural Institute during his two-day stay in Mali.
President Ahmadinejad also described Nigeria as a rich country which has access to huge natural resources including oil and gas.
President Ahmadinejad said he visited Nigeria to participate in the summit of the Group of Eight Developing Countries (D8).
Iranian President also described D8 summit as successful.
President Ahmadinejad also conferred with Turkish President Abdullah Gul and several Nigerian officials and scholars on the sidelines of the 7th D8 Summit during his two-day visit.
"Iran and Nigeria mull expansion of ties in the fields of energy, joint investment and agriculture," he said.
Established in 1997 in Turkey, D8 comprises Iran, Bangladesh, Egypt, Indonesia, Malaysia, Nigeria, Pakistan and Turkey.
Iranian President, who was in Mali and Nigeria for four days, arrived in Tehran on Friday morning.