Syria
Aleppo: Ankara-Backed Terrorists Kill Disabled Child in Another Crime Against Civilians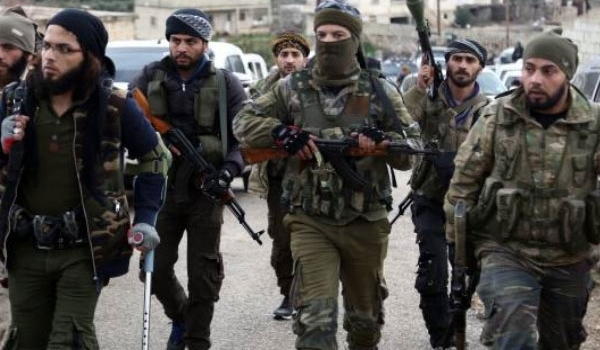 The Ankara-backed militants continued insecurities in Northern Aleppo and intensified their measures against civilians in the region, killing a child in Afrin region in Northern Aleppo.
A group of the Free Syrian Army militants affiliated to Ankara murdered a disabled child in Afrin City of Aleppo after abducting him from Izaz region and the subsequent refusal by his family to pay the ransom money asked by the FSA terrorists, the Arabic-language al-Watan newspaper reported.
It noted that the FSA terrorists had killed the child's father two days ago after his family could not prepare the ransom money asked by the Ankara-backed militants.
Meantime, the London-based Syrian Observatory for Human Rights (SOHR) reported that the Ankara-backed terrorists have asked for $200,000 for releasing a young man after kidnapping him from Afrin region and torturing him.
Over half of the residents of Afrin region have been forced to leave that region since the occupation of Afrin by the Turkish Army and its allied militants as well as intensified insecurity there.
In a relevant development on Thursday, people in Northern Aleppo had staged mass protests against the Turkish occupying troops and affiliated militants.
Field sources in Northern Aleppo reported on Thursday that hundreds of residents of the town of Souran in Northern Aleppo had held rallies against the Turkish forces fighting under the 'Operations Euphrates Shield'.
They added that residents of the town attacked one of the centers in which the Turkish officials and commanders of terrorist groups had held a meeting, forcing the so-called 'Local Council' militants to leave the region.
The sources said that the militants opened fire at civilians to crack down on the popular uprising and sent a large number of military equipment to the regions near Souran.
People in Northern Aleppo are demanding the Turkish occupying forces to leave the region as tensions and insecurities have sorely increased in the region.
The Kurdish-language Hawar News reported earlier that people in Northwestern Aleppo, specially Jarablus, al-Bab, A'azaz and Afrin regions, are growingly calling for the withdrawal of occupying forces.
The report said people are printing graffiti on walls and hold sporadic protest rallies to call for the Turkish army's retreat.
It added that the local people are furious with exacerbating security conditions resulting from increasing infighting among the Turkish army and their affiliated militants as well as their attempts to blackmail the civilians.
Meantime, the SOHR reported that the Ankara-affiliated militants fighting under the Operations Euphrates Shield are dissatisfied with their low salaries paid by Turkey.