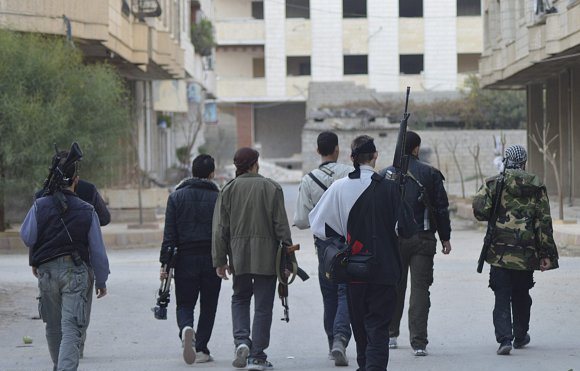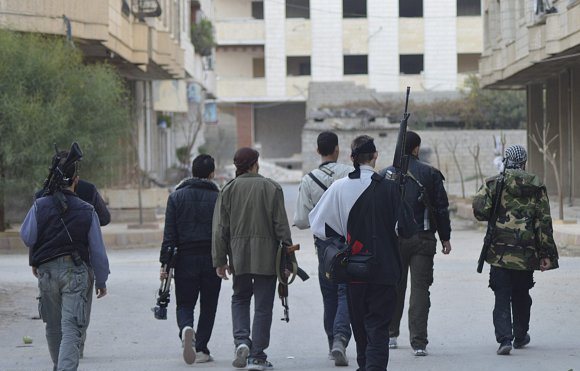 Syrian Army's rapid and successful takeover of the strategic town of Sfireh and nearby villages just to the south of Aleppo city has armed opposition visibly shaken.
For too long they've been complacent and overconfident that their control over much of Aleppo province was unchallengeable. But a number of significant factors have changed this calculus and proved to be a rude awakening.
This has hastened a shotgun wedding of several major Islamist factions fighting in Aleppo in the name of the Islamic Front as well as a call to arms and a lockdown in areas of the city they control.
A curfew was imposed, and the only crossing from opposition-held east Aleppo into the regime-held western part was pwemanently shut, which meant students couldn't go to university and workers, especially civil servants, couldn't get to their jobs. Residents of Aleppo now face the bizarre notion that to travel a few blocks from the east to the west of the city or vice versa, you had to travel about 500 kilometers (310.7 miles) down to Hama, then back up again through side roads and military routes, a journey of around 10 hours.
The rebels' recent troubles started after Turkey tightened its border controls, particular after the Islamic State of Iraq and al-Sham (ISIS) took over adjacent territory. They were exacerbated by internal fighting, with ISIS going after various rebel brigades like Asefet el-Shamal, Ghuraba el-Sham and Shuhada Bader, which significantly weakened the rebels in the northern countryside and threatened to ignite a full scale interfactional war. All these are contributing factors to the opposition's string of defeats, but the most significant one — not much talked about — is the defection of former opposition fighters who helped the regime retake the strategic Mwasalat Haditha area.
This is what has armed opposition worried the most, and their paranoia increased when the military head of the powerful Liwa al-Tawhid brigades, Abdelkader al-Saleh, was killed along with several other commanders in a pinpoint regime airstrike at a meeting they were attending. The rebels initially blamed nearby villagers for giving away their coordinates and detained dozens for questioning.
Another very significant change on the ground is the local militia now fighting alongside the regime's forces. This is a fairly new phenomenon in Aleppo. The new Quds militia in Aleppo, though, is different from the Defense Committees. It has almost all fighters drawn from local tribes and clans who inhabit southern towns such as Jibreen and the Nayrab refugee camp, where some Palestinians have also joined their ranks.
What this fresh offensive has meant in practical terms is that regime forces are now only a few kilometers from the opposition-held eastern edge of Aleppo city. A further push would see them inside the strategic area of Sakhur.
If they manage to take that, they effectively skewer and divide the rebel parts of the city, cutting them off from one another and from vital supply lines. It would also pave the way for them to push into the Sheikh Najjar industrial zone — latest reports indicate that this has begun — and the Masaken Hanano suburbs currently under ISIS control as well as the densely populated Sha'ar area, which is home to many of the rebel factions' headquarters and bases.
No doubt, significant victories in Aleppo will strengthen the regime's hand and give it more bargaining leverage as well as enabling it to make fewer concessions. In the past two days, the opposition seem to have regained some initiative, launching a fierce attack of their own on suburbs in west Aleppo toward the strategic Military Academy on the Damascus highway.
The looming battle for Aleppo is set to be a ferocious one, even by Syria's vicious civil war standards. A major shift in power on the ground here may well change the course of the entire war and shape any future political settlements.