Iran
North America
American Elites Strongly Slam Trump's Defeated Policy on Iran
Several former and present ranking officials strongly blasted President Donald Trump for his failed Iran policies after the White House leader threatened Tehran for mass protests in front of Washington's embassy in Baghdad that came in reaction to the US deadly attacks on anti-terrorism forces in Iraq.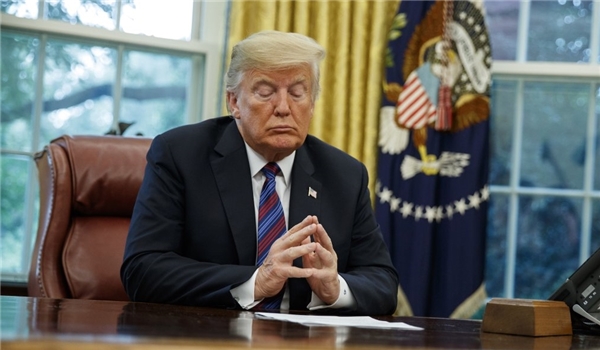 Ben Rhodes, a key Obama administration official who served as deputy national security adviser for strategic communications, once again mocked at Trump's moves on Iran, saying that the United States has been isolated as the Trump administration's policy on Tehran has totally failed.
"It's hard to overstate what a total failure Trump's Iran policy has been. Nuclear program resumed. Regional provocations escalated. US isolated," he wrote on Twitter on Tuesday.
It's not the first time that the former official has targeted Trump with verbal attacks. In June and just hours after the American leader met North Korea's leader Kim Jong-un at the Demilitarized Zone (DMZ) separating the two Koreas, Rhodes stressed that the Trump administration has totally failed in achieving any success on key issues, including encountering Iran, North Korea and Venezuela.
Tensions around Iran have been rising since Trump torpedoed the landmark 2015 nuclear deal and reimposed sweeping sanctions targeting large swathes of Iran's economy. Later, Washington raised the stakes in the standoff, sending additional military assets – including a carrier strike group, a bomber task force, and Patriot missiles – to countries bordering Iran. The latest conflict between Washington and Tehran started after an intruding American spy drone was shot down in Iranian sky.
As a reaction to the US unilateral withdrawal from the Joint Comprehensive Plan of Action (JCPOA) in 2018 and its subsequent sanctions on Tehran and in a response to Europe's sluggishness to save Iran's interests under the deal, Iran started modifying its nuclear deal undertakings in May. Tehran has rowed back on its nuclear commitments four times in compliance with articles 26 and 36 of the 2015 deal.
President: Iran to Continue Modification of N. Deal Undertakingshttps://t.co/omPCEvVrcP pic.twitter.com/OLcgYgeCte— Fars News Agency (@EnglishFars) November 11, 2019
Few hours later on Tuesday, Rep. Tulsi Gabbard, one of the harshest critics of Trump's money-based relationship with Saudi Arabia, also took to Twitter to strongly condemn the US airstrikes on Iraqi popular forces, known as Hashd Al-Shaabi, describing the attack as an "erratic military action" which "was impulsive, short-sighted, and lacked strategic purpose".
"It has led to our embassy bing besieged and undermined our relationship with the Iraqi government and people," the 2020 Democratic presidential candidate said, adding that serving the interests of Riyadh and Al-Qaeda, "Trump is taking us deeper and deeper into mid-east quagmire."
Earlier, the Hawaii representative had slammed the US president for having turned "America into the prostitute of al-Qaeda's biggest supporter: the Saudis".
Iranian President: US Military Power Humiliated by Yemenis' Success in Aramco Attackhttps://t.co/CxiCYjrGse pic.twitter.com/UVHQgln8In— Fars News Agency (@EnglishFars) September 24, 2019
Another presidential hopeful, Elizabeth Warren, also stated that "Trump's reckless decisions to walk away from the Iran Deal and now to launch airstrikes in Iraq without Iraqi government consent have brought us closer to war and endangered US troops and diplomats".
"We should end the forever wars, not start new ones," she stressed.
US airstrikes hit five Kataib Hezbollah targets in Iraq and Syria last week, in retaliation for an attack on a US coalition base near Kirkuk. Washington blamed that attack on the Iran-allied forces, but Tehran has denied any involvement.
On Tuesday, hundreds of Iraqi protesters furious over the Washington's assault forced their way into the US embassy compound in Baghdad, calling for the expulsion of the US ambassador and American military servicemen from the Arab country.
Hours later, Trump blamed Iran for orchestrating the storming of the US Embassy in Baghdad. Secretary of State Mike Pompeo stuck to the same anti-Iran line as Trump, decrying the "Iranian proxy attack" on the Kirkuk base, and accusing "Iranian backed groups" of threatening the embassy. Just hours after the US leader upped the ante and made a pointed threat against Tehran, he stated that the US is not gearing up for war with Iran, adding that he prefers peace to war.
Iran's Foreign Ministry Spokesman Seyed Abbas Mousavi lashed out at American officials who are turning a blind eye to the fact that their recent massacre of 25 Iraqi nationals has stoked public anger in the Arab country, adding that Washington's anti-Tehran remarks were part of a blame game to distract attentions.
On Wednesday, Supreme Leader of the Islamic Revolution Ayatollah Seyed Ali Khamenei hit back at Trump's "very big price" threat, noting that the United States "can do no damn thing".
Giving a sharp rebuke to Trump's threat to make Iran pay for the attack on the US Embassy in the Iraqi capital, Ayatollah Khamenei noted, "The Americans should come to realize that people in the region, including in Iraq and Afghanistan, hate them for their crimes and this hatred surfaces somewhere."
"If the Islamic Republic decides to challenge and fight a country, it will do so unequivocally; but everyone should know that we strongly defend the Iranian nation's interests, dignity, glory and progress. If anyone threatens that, we will unhesitatingly confront and strike them," he said, adding, "Unlike some who claim that war would break out, we will not push the country into war, but if others intend to impose a thing on this nation, we confront them with ultimate power."
For a second day, hundreds of Iraqi people who had gathered in front of the US embassy in Baghdad to protest at Washington's military attacks against Hashd al-Shaabi positions continued their sit-in on Wednesday, but security forces fired tear gas and stun grenades in a bid to drive them away.