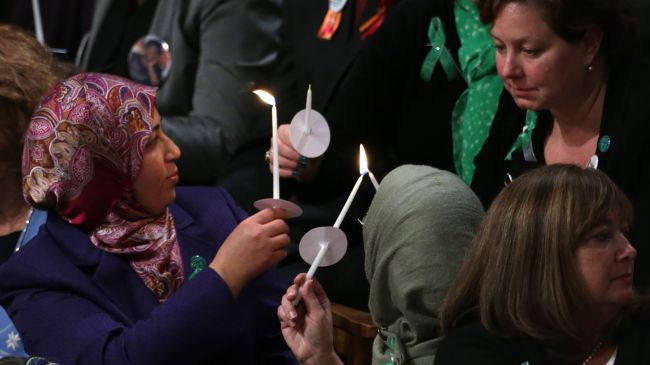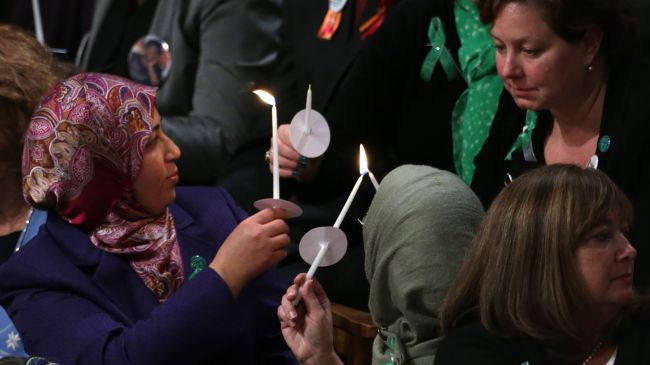 Hundreds of Americans in the US capital gathered solemnly on Thursday to mark the first anniversary of a deadly shooting in Newtown, Connecticut, that left 20 first-grade children dead.
People gathered at the National Cathedral in Washington, D.C., and held a vigil to remember the victims of last year's tragic shooting and call for tougher gun laws so that Americans could be led into a "safer era."
"We call our elected leaders to find the moral courage and the political will to lead us all into a new, safer era in American history," said the cathedral's dean, Gary Hall.
"Make us instruments of your peace, and strengthen our hearts and hands and minds — not only to care for the victims and survivors of gun violence, but also to bring about the change that will end the violence caused by guns in the hands of the criminal, the sick, and the cruel," he added.
Hall also said that 32,000 Americans have lost their lives to gun violence this year.
On December 14, 2012, twenty-year-old Adam Lanza used an assault rifle sold legally to his mother to kill 20 first-grade school children and six staff members in a rampage at Sandy Hook Elementary school in Newtown.
Since that tragic day, there have been nearly 11,500 gun deaths reported in the US media, according to an interactive project between slate.com and the anonymous creator of the Twitter feed @GunDeaths.
However, slate.com says based on the US Centers for Disease Control and Prevention estimates, the actual number of gun deaths in the US as of December 13 is roughly 33,300, almost three times more than the number reported in the media.
The Washington National Cathedral vigil was also attended by teenagers who lost friends and parents who lost children at Sandy Hook.
As family members of gun violence victims in the US have demanded tougher gun control laws since the Newtown shooting, little effort has been seen on the part of Congress or even the Obama administration for any substantial changes to current laws.
According to the Brady Campaign to Prevent Gun Violence, the current background check system in the US only applies to about 60 percent of gun sales, leaving 40 percent of sales, including online sales and purchases at gun shows, without a background check.