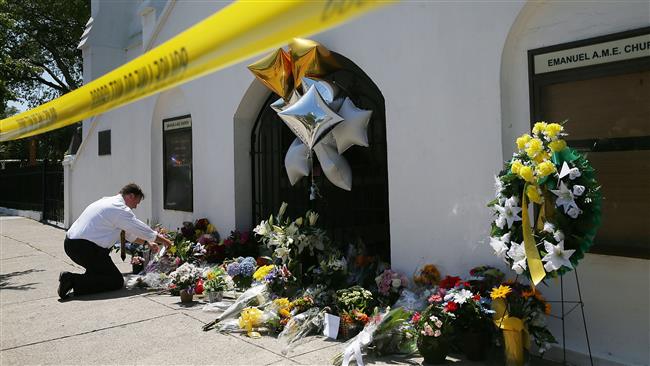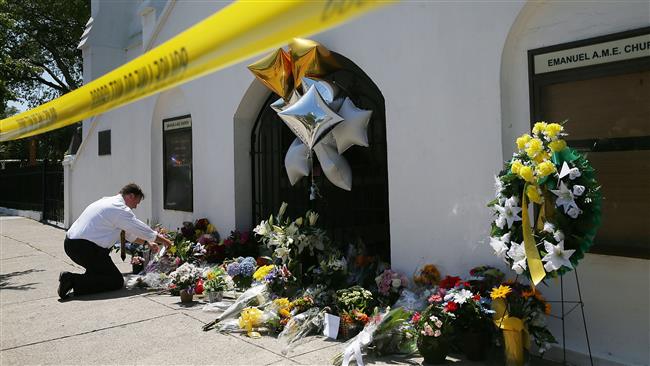 Americans have held vigils in memory of the nine victims of a "hate crime" shooting at a church in Charleston, South Carolina.
Mourners gathered all day outside the Emanuel African Methodist Episcopal Church, where the fatal shooting happened, to lay flowers and light candles Thursday and continued to do so late into the night.
Hundreds of others also gathered in New York City to pray for the victims of Wednesday's shooting. They marched and finally gathered at First AME Bethel in solidarity with those grieving in Charleston.
Dylann Roof, 21, who was taken into custody on Thursday, is accused of opening fire at the Charleston church on Wednesday, killing six women and three men.
"Words cannot express this. To me this is like 9/11, except that it's worse, because it's here, in Charleston, nearer to home," said Pastor Michael Boone in Charleston.
"There is this racial divide and these things keep happening – Ferguson, Ohio, Timur Rice, Baltimore. Now we're at the top of that list, here in Charleston," he said, referring to recent high-profile shooting deaths of African Americans in other US cities. "I feel anger and frustration."
"We might not be picking cotton, but we are living in a 21st Century racist America," said Boone.
"This has brought a lot of people together. There are all sorts of people at this rally tonight," he said. "They are all feeling pain."
On Thursday, local, state and federal law-enforcement officials launched a large-scale manhunt for Roof, who allegedly made anti-black statements during the shooting spree.
According to a law enforcement official familiar with the case, Roof told the victims that they were taking over the country and "raping our women."
Religious and political leaders in the city described the shooting as a racially-motivated hate crime incident. They ruled out any other conceivable motivation.
"This is a situation that is unacceptable in any society, and especially in our society, in our city," said Charleston Police Chief Greg Mullen. "We are committed to do whatever is needed to bring this individual to justice."
Roof reportedly sat for up to an hour in the church with those attending a prayer meeting before opening fire.