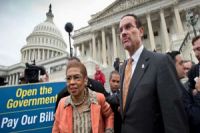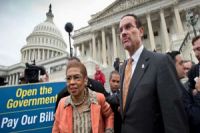 Americans have staged a rally in Washington, D.C., protesting against the budget gridlock in Congress that they say has affected every aspect of their lives.
Several hundreds of protestors gathered Wednesday in front of the Capitol Hill. The demonstrators were at a protest over funding of the District of Columbia's budget as a federal government shutdown is now in its second week.
The protesters were worried that a continued shutdown would bring their city down and put the municipal services to a halt.
On October 1, the US government partially shut down operations as congressmen refused to agree on a temporary spending bill that would keep the federal government funded.
Last week, the Republican-controlled House of Representatives passed a bill allowing D.C. to use its locally raised tax funds to maintain operations until December 15.
However, President Barack Obama and congressional Democrats remain opposed to funding bills, insisting that the GOP should agree to fund the entire government.
Washington D.C. Mayor Vincent Gray was the key speaker of the event. He said funding to the District had been suspended by the shutdown.