Iran
North America
Amid COVID-19 pandemic, Iranian physicians urge regional leaders to take action to destroy US biological labs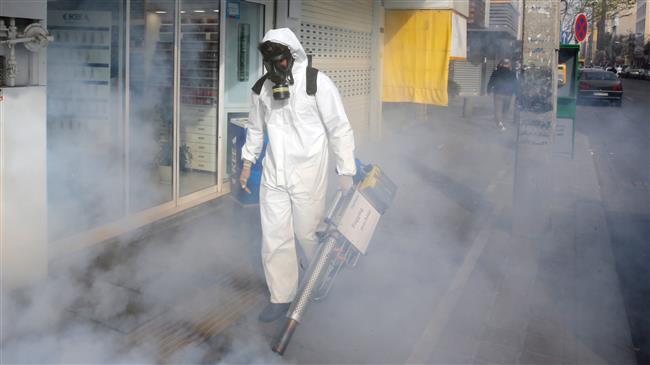 A group of Iranian physicians have written a letter to certain regional heads of state, urging them to take necessary measures to destroy "all of the US biological laboratories," amid reports and speculation that the global coronavirus outbreak has been caused by unidentified laboratories spreading the epidemic as part of a "biological warfare."
In the letter addressed to leaders of Georgia, Iraq, Kyrgyzstan, Kazakhstan, Pakistan and Afghanistan and released on Wednesday, 101 Iranian doctors specializing in infectious and pulmonary diseases, asthma and allergies, called for those countries' immediate action given the rapid spread of the COVID-19 and reports about its laboratory construct and purposeful manipulation.
"We, as a group of Iranian physicians specializing in infectious and pulmonary diseases, asthma and allergy are witnessing that many of our compatriots are infected with the virus, and like all doctors across the world, we are trying day and night to cure and save the them," they said.
"But there has been plenty of evidence in both the world's leading scientific articles and in the media, citing geneticists and biologists and WikiLeaks documents, that reinforces the speculation about the COVID-19 manipulation in biological laboratories and a biological attack by the US though the virus against rival countries," the letter added, pointing, as an example, to earlier remarks by Chinese Foreign Ministry spokesman Zhao Lijian, who said in a tweet the United States military could have brought the novel coronavirus to China, and that it did not originate in the Chinese city of Wuhan, as widely believed.
US, Israel waging biological warfare on massive scale
The United States and Israel are waging biological warfare on a massive scale, according to Dr. Kevin Barrett.
The Chinese official said, "It might be US army who brought the epidemic to Wuhan. Be transparent! Make public your data! US owes us an explanation!"
The doctors said the US had a history of using biological weapons, stressing "it is imperative to preserve human lives and prevent future generations from scolding us for being silent and our possible inaction regarding this huge crime in human history."
US main factor behind biological warfare, coronavirus cover-up: Iran official
An Iranian official calls the US the main culprit in launching "biological warfare" and covering up the coronavirus spread inside America.
Pointing to US withdrawal from various international agreements and treaties, the letter said Washington was highly likely to defy international agreements to control the development of biological weapons such as the "Geneva Protocol" and "the Convention on the Prohibition of the Development, Production and Stockpiling of Bacteriological and Toxin Weapons."
It has also refused to sign protocols on prevention of microbiological weapons, the letter added.