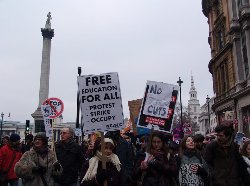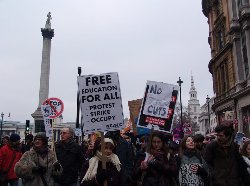 Angry unions in the US state of Wisconsin threaten companies to oppose a bill restraining the collective-bargaining privileges of government workers.
The unions sent out letters promising boycotts and attacks against local businesses that refuse to publicly support their demands following failed attempts to force lawmakers with week-long protests and threats into overturning the legislation, the biweekly magazine The New American reported on Saturday.
"The undersigned would like your company to publicly oppose Governor Walker's efforts to virtually eliminate collective bargaining for public employees in Wisconsin," read one of the letters from a group of government-employee unions sent to companies in Wisconsin and obtained by the The New American.
The unions declared a week-long deadline for the company to respond, after which the letter informed the recipient that they "will assume" the firm stands with Republican Governor Scott Walker, who introduced the measure.
"In the event that you cannot support this effort to save collective bargaining, please be advised that the undersigned will publicly and formally boycott the goods and services provided by your company," they warned.
However, the unions said good things would happen if the firms joined them and promised to "publicly celebrate" the partnership.
In the letter, the union leaders also demanded that the companies disclose their contributions to political organizations, arguing that "the public has a right to know what kind of contributions or payments you make that impact the political process."
A similar letter reportedly circulated by the Wisconsin State Employees Union also threatened boycotts of businesses that do not support union demands, and fail to display pro-government-union signs in their windows.
"Failure to do so will leave us no choice but [to] do a public boycott of your business," the letter stated, noting "neutral means 'no' to those who work for the largest employer in the area and are union members."
The letters earned the unions some negative publicity and outraged some firms, which said the effort would backfire and criticized the threats against companies that would choose to stay neutral. US media have also engaged in citing state laws that could be interpreted as saying the boycott threats could mean potential felonies.
The union's move comes as the Republican budget-repair bill remains in a state of limbo after a county judge issued a temporary restraining order against its implementation.
A ruling by an appeals court on March 24 left the verdict on the matter to the state Supreme Court. This prompted Gov. Walker's administration, which had initially announced the law was in force, to postpone the implementation of the bill indefinitely until the issues are resolved in court.
The disputed legislation is hoped to remove a multi-billion dollar budget deficit by requiring most government employees to contribute slightly more to their pensions and health benefits. It would also make payment of union dues optional and limit the collective-bargaining privileges of most public-sector workers.