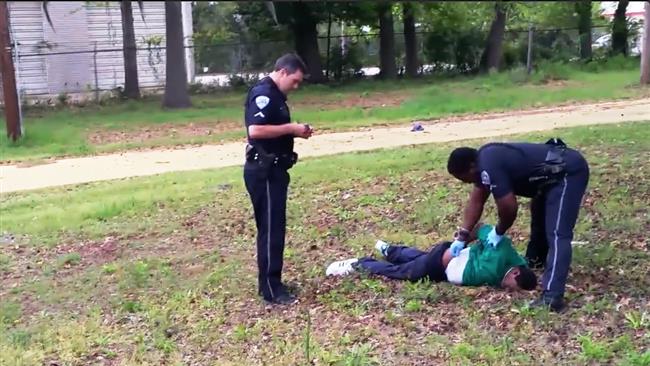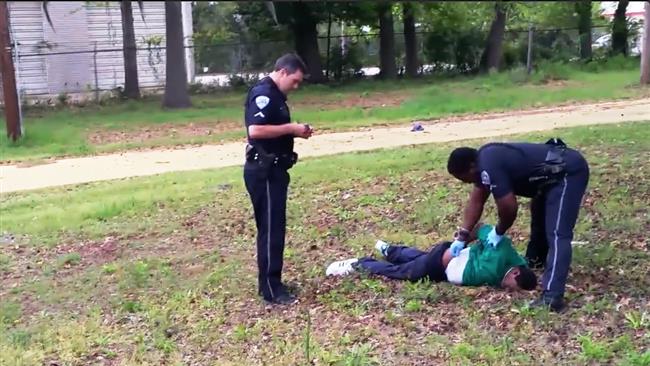 A white cop has been charged with murdering a black man in the US state of South Carolina following the release of a video by a bystander.
On Tuesday, Mayor Keith Summey of North Charleston made the announcement at a press conference after the video of the Saturday incident surfaced.
"When you're wrong, you're wrong," Summey said. "When you make a bad decision, don't care if you're behind the shield or a citizen on the street, you have to live with that decision."
The footage appeared to show officer Michael T. Slager firing multiple times at the apparently unarmed 50-year-old Walter L. Scott as he ran away.
The incident follows similar high-profile ones that led to deaths of Michael Brown in Ferguson, Mo., Tamir Rice in Cleveland, and Eric Garner in Staten Island, which caused nationwide protests across the US against police brutality.
The 33-year-old officer, pictured below, had said he killed the man after he took his stun gun in a scuffle that followed a traffic stop. The video, however, shows him firing at the victim eight times as he is running away.
According to police reports, Slager stopped the black man, driving a Mercedes-Benz with a broken taillight but as he ran away, the cop chased him into a grassy lot where the murder happened.
Slager initially fired his Taser which did not stop Scott, police said.
"Shots fired and the subject is down. He took my Taser," Slager reported on his radio after the incident.
The victim, who has been arrested multiple times mostly for failing to pay child support or show up for court hearings has four children, said Chris Stewart, a lawyer for his family.
"He doesn't have some type of big violent past or arrest record. He had a job; he was engaged. He had back child support and didn't want to go to jail for back child support," Stewart said.
He added that the black man was struck five times — three times in the back, once in the upper buttocks and once in the ear.
In the video, none of the three cops seen seem to perform CPR on the victim lying prone on the ground with his hands cuffed behind his back.
An investigation has been launched into the incident by the South Carolina Law Enforcement Division.
North Charleston is the state's third largest city with a population of around 100,000 people, 47 percent of whom are African Americans.