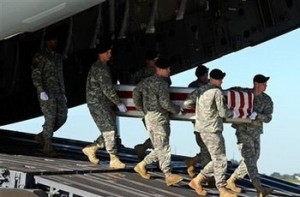 A roadside bomb has killed an American soldier serving with NATO forces in southern Afghanistan, the alliance forces say.
Without giving details of the exact location of the incident, NATO's International Security Assistance Force (ISAF) said he died on Friday.
The death of the American, who was not named, was the only known Christmas Day fatality among the 113,000 ISAF troops deployed to war-ravaged Afghanistan.
"An ISAF service member from the United States died following an improvised explosive device (IED) strike in southern Afghanistan Friday," the ISAF statement said.
The death takes this year's international military casualties in Afghanistan to 505, according to an AFP tally based on an independent website, icasualties.org, which tracks military deaths in Afghanistan and Iraq.
This year has been the deadliest since the 2001 US-led invasion, which was allegedly aimed to eradicate militancy and to arrest or kill militant leaders, including al-Qaeda leader Osama bin Laden in Afghanistan.