North America
Anti-Arctic drilling activists hold 'Shell No' protest in US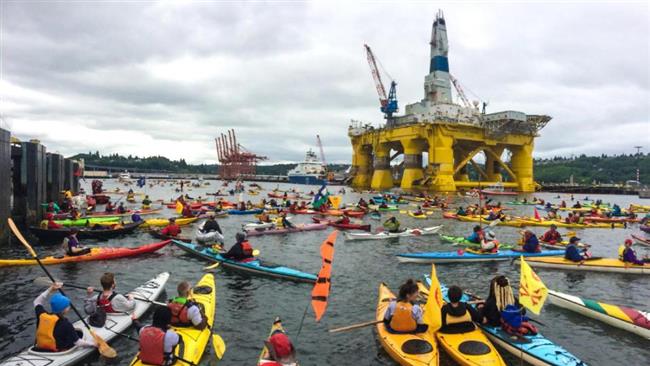 American activists in their boats have hit the water in West Seattle to protest oil drilling plans in the Arctic Ocean.
Environmentalists paddled their boats on Saturday in the waters of Elliott Bay to protest the docking of two drilling rigs at the city's port.
Activists gathered and held signs and banners that read: "Climate Justice," "Oil-Free Future," "Shell No, Seattle Draws The Line," and "We can't burn all the oil on the planet and still live on it."
The protest was meant to send the message that Royal Dutch Shell should cancel its plan to drill in the Arctic Ocean.
Energy giant Shell is going to move them for oil exploration off Alaska's northern coast later in summer.
The activists said the drilling will lead to an ecological catastrophe. They warned an oil spill can be disastrous on many levels.
Eric Day, with the Swinomish Indian Tribe, said drilling in the Arctic would harm those who live off the land.
"This is our livelihood. We need to protect it for the crabbers, for the fishermen," Day said. "We need to protect it for our children."
The protesters also encouraged the use of renewable energy instead of dirty fossil fuels.
Annie Leonard, executive director of Greenpeace USA, said the focus must be on renewable energy in this time of global warming.
"Why would we invest in an energy source that scientists say is leading us to catastrophe?" Leonard said.
According to Shell, the Arctic holds about 30 percent of the world's undiscovered natural gas and 13 percent of its oil.
On Monday, the US government gave approval to Shell to begin its drilling for oil in the Arctic.
Shell has for years struggled with the US government to drill in the icy waters of the Chukchi Sea which according to federal scientists hold up to 15 billion barrels of oil.
The decision came from the United States Department of the Interior (DOI) which is responsible for the management and conservation of most federal land and natural resources, among other duties.