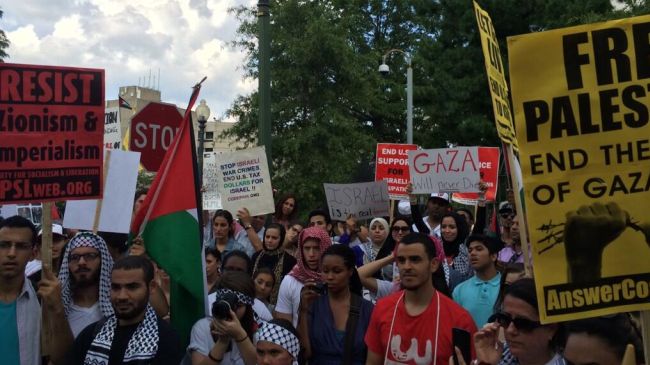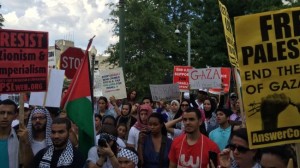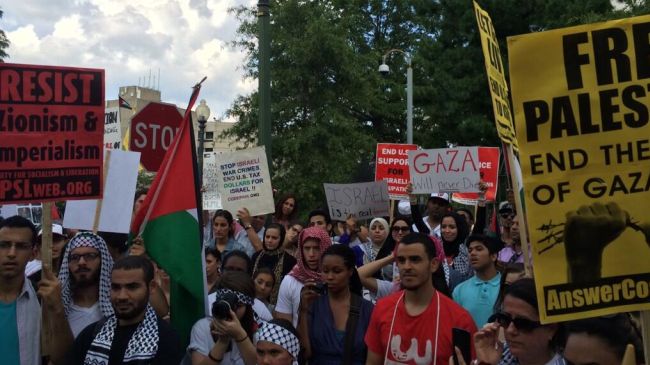 Dozens of protesters have gathered outside the Israeli embassy in Washington D.C. to condemn Israeli aggression against Palestinians in Gaza.
The protesters on Friday called for an end to Israel's bombing of the besieged Gaza Strip.
The demonstrators are furious over Israeli airstrikes that have left more than100 people dead, according to medical officials in Gaza.
More than 800 people were injured in the latest round of Israeli attacks on Gaza since July 8. Most of the victims have been women and children.
The protesters demanded an end to Washington's funding of the Israeli military.
"What's the whole point in attacking families," said one protester.
"I'm terrified. I'm absolutely terrified," another protester said.
Another demonstration is set to be held on Sunday, July 13 at the Columbia Heights Mall.
On Wednesday, thousands of people gathered outside the Israeli mission to the United Nations in New York City to protest Israel's crimes against Palestinians.
New York resident Agi Smith said she was disgusted with Israel's actions in occupied Palestine.
"I oppose the barbaric assault on the people of Palestine by the Israeli military," she told Press TV. "Israel does not want peace."
In an interview with Press TV on Thursday, Sara Flounders, who was one of the organizers of the rally, said the people of the whole world stand with the Palestinians.
She also denounced the Israeli aggression in the Gaza Strip which is totally supported by the United States.
"The US is the main support of Israel and is totally behind this attack. Any attack from Israel would have been impossible without decades of US military, political, diplomatic, and economic support of Israel," Flounders said.
"Not only is the US behind this, the US has denounced the unity government of the Palestinian people, between Fatah and Hamas — a huge step forward — and that's because US policy at every point, US corporate rule, is for divide and conquer," the activist noted.