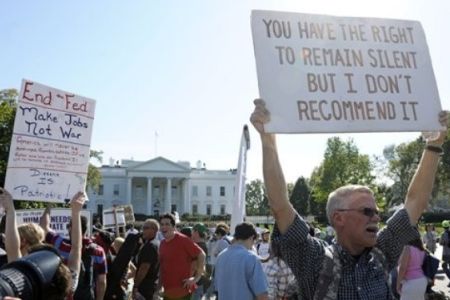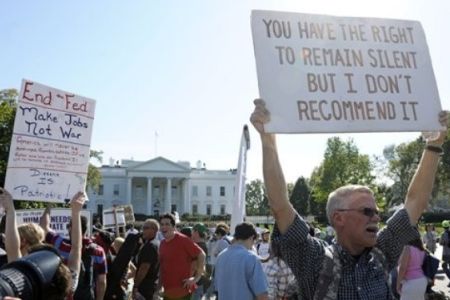 Anti-corporatism protesters in the US capital have vowed to indefinitely remain in the Freedom Plaza near the White House, an organizer says.
Maria All-wine, who is also a rights activist, made the announcement as the protesters permit to stay expired on Sunday. They were, however, given until Monday afternoon to gather their tents and leave the plaza.
All-wine meanwhile called the gathering an "occupation" and said that the demonstrators are taking good care of the area, AFP reported on Monday.
A police spokesperson said it is unclear how the police would react should protesters decide to stay.
The protests, which are part of the "Occupy D.C." movement, emerged after a group of people on September 17 rallied in New York's financial district under the name "Occupy Wall Street," to protest against top-level corruption, poverty as well as social inequality in the US.
According to occupytogether.org, the movement has since spread to 1,196 cities across the country.
Moreover, the movement also blames Wall Street for the economic problems faced by many in the US and has repeatedly called for an end to the war in Afghanistan and Iraq.
According to a report recently published by The New York Times, the average household income in the US after the recession has dropped even more than during the economic downturn.
The decline was described by the report as "a significant reduction in the American standard of living."
It further suggested that the new findings could help clarify the growing mistrust that exists among US citizens towards their political system and the economic policies of authorities.