Iran
Armed Drug Gang Disbanded in Southeastern Iran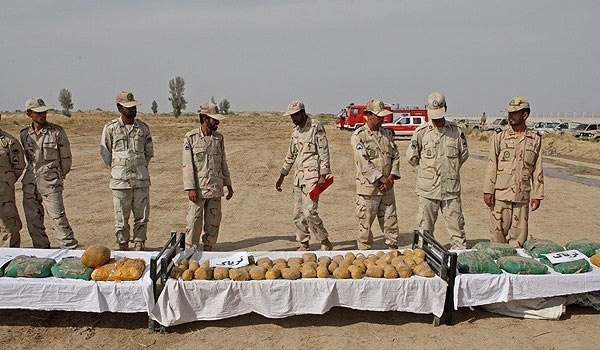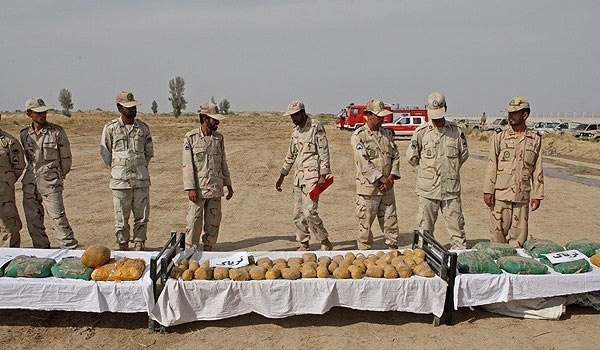 Security forces in Southeastern Iran disbanded an armed gang of drug traffickers, a security official announced on Thursday.
"Using intelligence tips and special tricks, the anti-drug police officers in Iranshahr city (Sistan and Balouchestan province) came to be informed of the operation of an armed gang of drug traffickers which smuggled drugs in high-speed cars," Commander of the Law Enforcement Police in Sistan and Balouchestan Hossein Rahimi told FNA on Thursday.
He said that the two drug traffickers were then arrested in special police operations, adding that 800kg of opium and 7kg of hashish were discovered and seized from them and their two Peugeot cars used for drug trafficking were confiscated.
The drug combat squads of the Iran's Law Enforcement Police have seized more than half a million kilograms of illicit drugs in countrywide operations in 2014.
"The Iranian police seized 506 tons of narcotics last year," Deputy Head of Iran's Anti-Drug Headquarters Alireza Jazini said, addressing a conference on the International Anti-Drug Day in Tehran in June.
He noted that over 2,770 drug gangs were disbanded in Iran in 2014 and over 330 laboratories used for crystal production were also destroyed.
Jazini said that opium, crystal and heroin comprise most of the illicit drugs seized from drug traffickers in Iran.
Pakistan and Afghanistan are two origins of producing and trafficking of various types of narcotic in the region.
The anti-drug squads of the Iranian Law Enforcement Police have intensified their countrywide campaign against drug-trafficking through staging long-term systematic operations since 2010.
The Iranian anti-narcotic police have always staged periodic, but short-term, operations against drug traffickers and dealers, but the latest reports – which among others indicate an improved and systematic dissemination of information – reveal that the world's most forefront and dedicated anti-narcotic force (as UN drug-campaign assessments put it) has embarked on a long-term countrywide plan to crack down on the drug trade since five years ago.