Iran
Middle East
North America
Armed Forces Spokesman: Iran to Target Interests of Washington, Collaborators in Any War
Spokesman for the Iranian Armed Forces Brigadier General Abolfazl Shekarchi warned that Tehran will give a crushing response to any possible aggression by the US and its allies, noting that the countries whose territories are used for launching attacks against Iran will not remain safe either.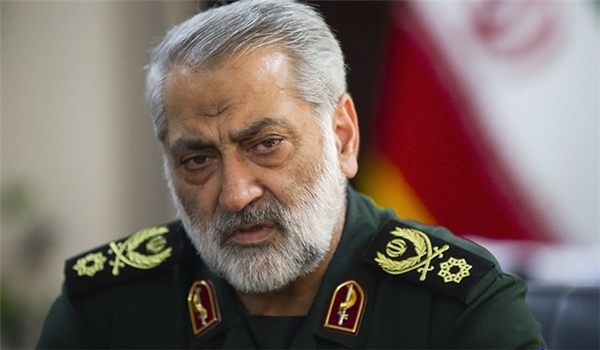 "Any place and any point of any territories which host the US and its allies' interests will be threatened (in case of any war) and the Islamic Republic has proved that it has the capability to do so," General Shekarchi told FNA on Sunday.
"Even if a country does not directly participate in any possible war but its territories host the enemy, we consider that country as a hostile territory and will treat it as an aggressor," he added.
General Shekarchi also underlined that Iran's military might and power is not limited to the country's territorial borders.
He, meantime, said that Iran has never started and will not start a war in the future, "but if an aggressor makes a strategic mistake, that aggression will be confronted with the strongest and the most crushing response" in the geography beyond the imagination of ill-wishers, a response that will make the aggressors regret their deed.
General Shekarchi had also warned in June that the interests of Washington and its regional allies would be endangered and destroyed if the US fired even one single bullet at Iran.
"Threat against threat means that if one bullet is fired at us, 10 bullets will be fired at them (the enemy) and they should pay a heavy price," the Iranian General said.
He added that the Iranian Armed Forces as guarantors of security for the Iranian and regional people have this message to the world that "we do not intend to invade any country but if Iran comes under aggression by enemies, they will face an irreparable and historical response that will make them regret".
General Shekarchi said that all moves by enemies, specially the US, are precisely monitored by the Iranian Armed Forces, stressing that any military miscalculation by enemies, specially the US and its allies, in the region will mean firing at a gunpowder store, which hosts the interests of the US and its allies, and setting fire on the entire region that will burn the US, its interests and its allies.