Iran
Middle East
North America
Army Commander's Aide: US Aggression against Iran to Receive Crushing Response
A senior advisor to the Iranian Army commander downplayed deployment of the US aircraft carrier in the Persian Gulf as a tactic to create horror, saying that any mistake by the American forces will face Iran's crushing response.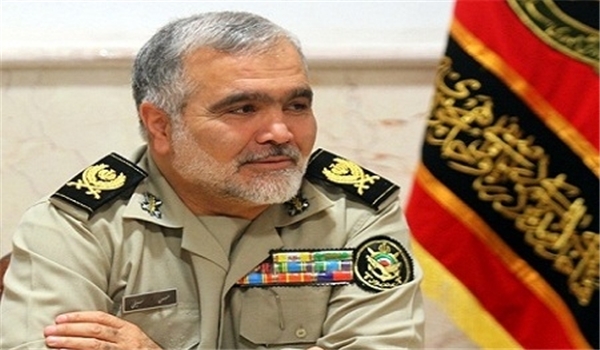 "You should know that if the Americans could have waged war on Iran, there would have been no need for their deployment in the Persian Gulf. Did they have an exhibition of their equipment before invading Iraq and Afghanistan?" General Hassan Seifi told the Persian-language service of MNA on Sunday.
He noted that Washington wants to create fear and horror among the Iranian people, and said, "War is not possible at all and even if it happens, the (Iranian) Armed Forces are fully prepared to give a response to the enemy that will make it regret."
"The Islamic Iran can impose many costs on the US and it will finally lead to the US shame," General Seifi said.
In relevant remarks on Friday, Head of the Islamic Revolution Guards Corps' Public Relations Department and IRGC Spokesman Brigadier General Ramezan Sharif said that American troops dispatched to the Persian Gulf from home thousands of miles away were not motivated enough to fight a war with Iran and as a result were shivering with fear.
"We are today witnessing American soldiers in the Persian Gulf with shivering hands and pale faces standing behind a mountain of equipment living like robots in the face of the will of the progenies of this nation," Brigadier General Ramezan Sharif said in a ceremony on commemorating the 39th anniversary of the liberation of Khorramshahr from the military of the former Iraqi dictator Saddam Hussain.
"In the battlefield, we fought against those who were more motivated, powerful and regionally dominant than Americans. Whom are you trying to frighten with sending troops from thousands of miles away," added the IRGC commander.
The commander reminded that after the victory of Iran in Operation Beytolmoqaddas, which led to the liberation of Khorramshahr, thousands of enemy soldiers escaped and thousands of them were caught captive, and asked, "What's your escape way back if you make a mistake?"