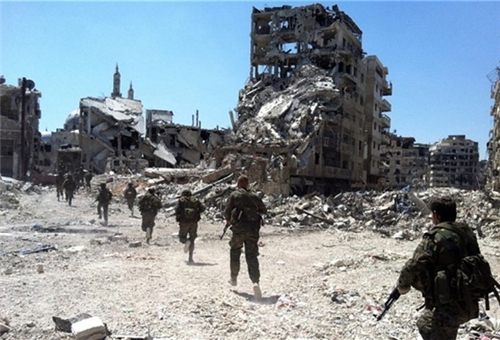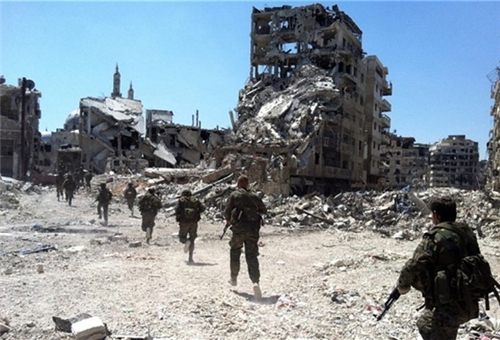 The Syrian army targeted militants' positions near a strategic military airport in Idlib countryside in Northwestern Syria.
The army units hit several gathering centers of the armed rebels in Masaken Al-Mohateh near Abu Zohour Military Airport in Idlib countryside in the last 24 hours.
The army killed tens of militants and injured dozens more in heavy clashes around Abu Zohour Airport.
Also in the past 24 hours, the Syrian army thwarted militants' attacks on a strategic military center in Idlib countryside.
The army units pushed back the terrorists from Basida town in the outskirts of Ma'areh Al-Nauman in Idlib countryside and prevented them from attacking a nearby military center.
Scores of militants have been killed and many more injured in the army's attack in the area.
Meantime, twelve citizens were injured by mortar shells fired by the militants that fell on residential areas in Jaramana in Damascus countryside.
A source at the Police Command said that many shells fell on the residential areas of al-Wahda, al-Baath, al-Janayen, al-Rawda and al-Jam'yat, adding that the attack caused injures to 12 citizens, among them a child and a number of women, in addition to material damage to the properties in these areas.
Elsewhere, Al-Qaeda-linked militants executed several ringleaders of the rival groups in Al-Raqqa city in Northern Syria.
The Islamic State of Iraq and the Levant (ISIL) executed six commanders of Ahrar Al-Sham and Al-Raqqa Revolutionary Battalion on Meydan Al-Sa'ah in Al-Raqqa city.
Two most wanted terrorists, namely Abu Hafs Al-Araqi and Al-Mojandal Al-Tunisi, have also been among those executed by the ISIL in the same location.
Also, Syrian Kurds announced that they have killed a wanted and notorious Al-Qaeda commander in Hasaka countryside in the Northeastern parts of the country.
Abu Islam Al-Idlibi was killed in fierce clashes with the Syrian Kurds' Popular Support Committees in Ras Al-Ain town in Hasaka countryside.
The Syrian Kurdish fighters have intensified their attacks against the Al-Qaeda-linked terrorists in the past two months.
The conflict in Syria started in March 2011, when sporadic pro-reform protests turned into a massive insurgency following the intervention of western and regional states.
The unrest, which took in terrorist groups from across Europe, the Middle-East and North Africa, has transpired as one of the bloodiest conflicts in recent history.
As the foreign-backed insurgency in Syria continues without an end in sight, the US government has boosted its political and military support to Takfiri extremists.
Washington has remained indifferent to warnings by Russia and other world powers about the consequences of arming militant groups.