North America
Arrest Henry Kissinger for war crimes, protesters say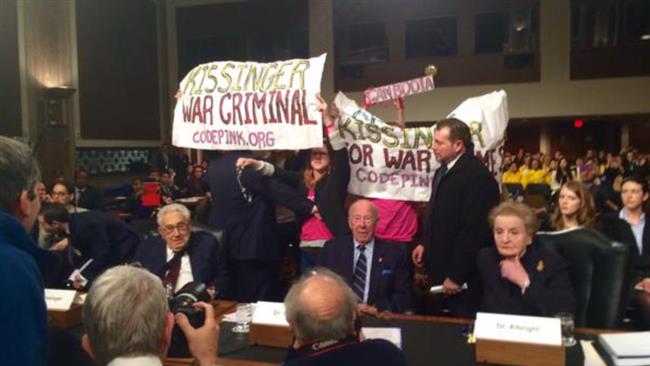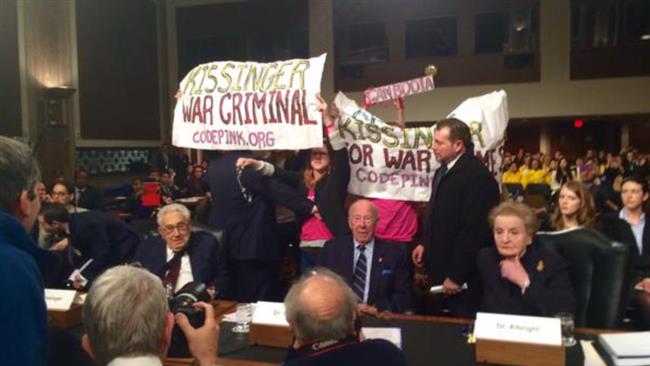 A large number of protesters have interrupted a US Senate hearing demanding former Secretary of State Henry Kissinger be arrested for war crimes.
This happened on Thursday in Washington, DC when the 91-year-old Kissinger and two other former secretaries of state were about to speak at the Senate Armed Services Committee, which was holding a hearing on global challenges and the US national security strategy.
The protesters from the anti-war group CODEPINK declared Kissinger a war criminal over his role in the Vietnam War and the coup in Chile.
Some protesters were chanting, "Arrest Henry Kissinger for war crimes" and "Kissinger is a war criminal."
The protesters, bearing signs reading "Kissinger War Criminal" and "Cambodia," rushed up behind Kissinger at the witness table of the Senate Armed Services Committee.
Also testifying were 94-year-old former Secretary of State George P. Shultz and 77-year-old former Secretary of State Madeleine Albright.
Republican Senator John McCain, who led the committee, called the protesters "disgraceful" and "low-life scum" and ordered them taken out by police.
McCain then went on to apologize to Kissinger, saying, "I have never seen anything as disgraceful and outrageous and despicable as the last demonstration that just took place."
Later, when Kissinger began his opening statement, more CODEPINK demonstrators stormed into the room, chanting slogans about the "war crimes" he committed in Vietnam.
"Vietnam! From 1969 to 1973, Kissinger, working for Richard Nixon, oversaw the slaughter in Vietnam, Cambodia and Laos, that led to the deaths of millions — millions of people. Many thousands more died from the effects of massive doses of agent orange and from unexploded bombs that covered the countryside!" a protester shouted.
"Chile! Henry Kissinger was one of the principle architects of the coup in Chile on September 11th, 1973."
McCain later issued a statement saying CODEPINK protesters had "physically threatened" Kissinger.
Medea Benjamin, CODEPINK cofounder, said the demonstrators never "physically threatened" the former US secretary of state, arguing that Kissinger is the thug, "associated with real physical intimidation and, unfortunately, has never been held accountable for the war crimes he is guilty of."