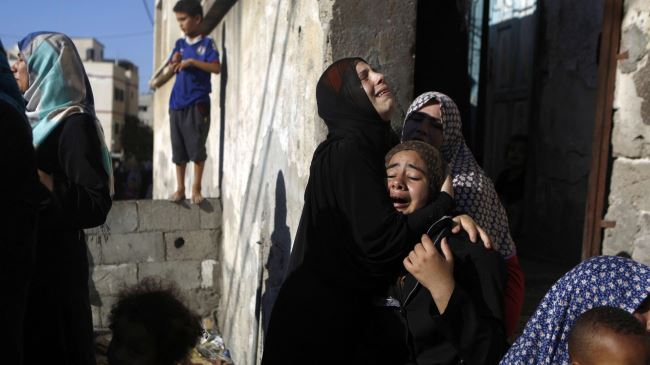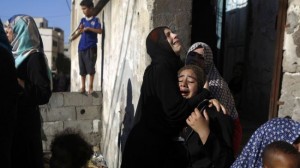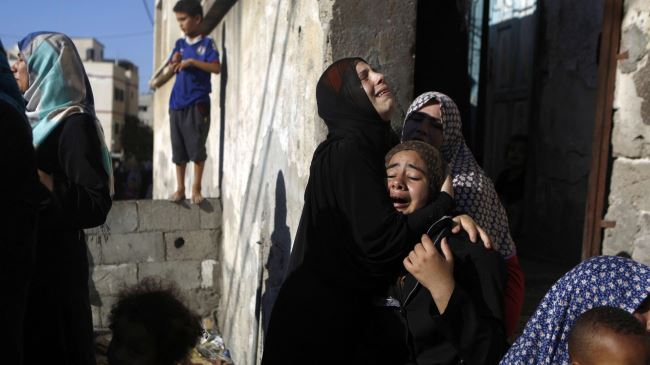 At least 733 Palestinians have been killed and 4,605 wounded in 17 days of Israeli aerial and ground offensives in the besieged Gaza Strip.
The number of deaths on Thursday rose to 40.
New attacks were carried out in the city of Khan Yunis, and the Shojaiya and Zeytoun neighborhoods, killing a number of Palestinian children.
According to Palestinian human rights group estimates, 81 percent of those killed in Gaza since Israel first launched its ongoing offensive on July 8 are civilians.
Tel Aviv has so far targeted more than 3,250 locations in the besieged strip, completely destroying nearly 500 homes and partially damaging 2,644.
Reports also show that more than 120,000 Palestinians have been displaced.
UN officials say that 70 percent of Gazans do not have access to safe water, as major water wells have been hit directly by the Israeli forces.
According to the UN, Israeli forces have been killing one Palestinian child every hour over the past two days.
The military wing of the Palestinian resistance movement Hamas, the Ezzedine al-Qassam Brigades, has been launching retaliatory attacks against Israel. Alerts have reportedly gone off in Sderot and Ganim as rockets from Gaza continue to target Israel. Tel Aviv's HaSharon and Gush Dan areas have also come under retaliatory attacks.