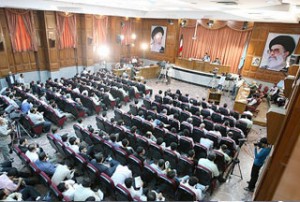 The defense attorney of one of the post-vote detainees has described as 'severe' an indictment that charged his defendant with throwing a hand-made grenade.
Another 25 of those arrested in Iran's post-vote protests were put on trial on Sunday in the third court session held in a Tehran.
After reading out a general indictment covering allegations against all the detainees, the Deputy Prosecutor Sepehr listed the charges brought against each of the defendants.
The indictment, read by Sepehr, charged Meisam Ghorbani with producing a hand-made grenade and throwing it at police guards, in defiance of orders, acting against national security and participating in illegal rallies.
Some grenades and a uniform belonging to a member of the Islamic Republic Guards Corps (IRGC) were found in the defendant's car, Sepehr said, adding that Ghorbani has confessed to his role in instigating illegal rallies and throwing grenades at police guards.
After the indictment was read, Ghorbani said he and his friends were arrested in a check-point. He said that the grenades found in his car belonged to his friends, adding that he has already named those who had thrown grenades at the guards.
Ghorbani, however, stressed that he was unaware of the uniform found in his car.
His defense attorney, Farzam Ardalan, afterward, maintained that his client has put everything in plain words, and added, "The owner of the uniform, who is a Basij member, has called the family of my client and has introduced himself".
He said that his client should be presumed innocent regarding this charge.
Ardalan denied the charges of throwing grenades at police guards brought against the defendant and said the indictment was 'too severe' for such a charge.
He further asked the judge for a week's time to produce the necessary evidence for the court which was accepted.
Judge Salavati had earlier said that the court was an 'unbiased' party that would rule on the indictment based on 'law, equity and justice'.
This was the third trial held in Tehran after nearly 4,000 individuals were arrested in the country in the unrest that followed Mahmoud Ahmadinejad's re-election in the June 12 vote.