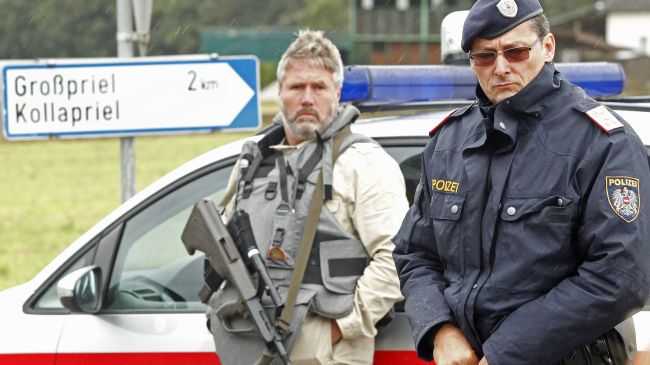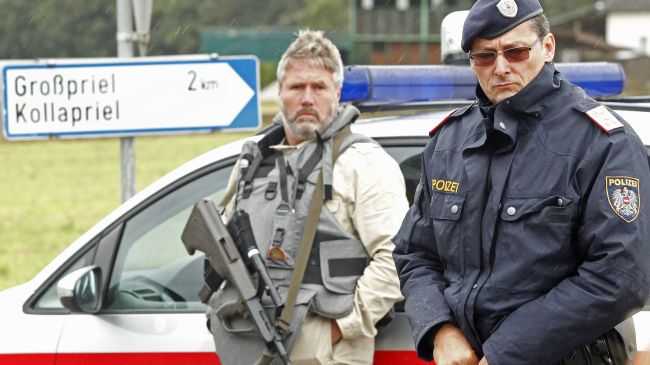 An armed man has shot dead two law enforcement officers and a paramedic before barricading himself and a police hostage at his farmhouse in Austria, media reports say.
On Tuesday morning, the area surrounding a farm at Kollapriel near Melk, Austria, remained cordoned off and surrounded by large numbers of SWAT police as they strategized a finale to the showdown.
The gunman and police exchanged shots several times during the standoff, reported the Austria Press Agency.
A further report said the gunman remained inside the farm, possibly with his children and a police hostage. Another media report stated that the poacher had hand grenades.
"The suspect fled in his car to his house. That is where he is currently located. It is surrounded by police," the interior ministry said in a statement, adding that only two police officers and a paramedic had been "hit by bullets" and that a police officer was "missing."
On Monday, police had attempted to stop the man in his vehicle near Annaberg, approximately 100 kilometers (60 miles) west of Vienna, but he fled, a media report said.
Another report added that the man then drove his car into a ditch where he shot one police commando in the neck and then a paramedic who had come to the officer's assistance.
Afterwards, the gunman shot dead a second police officer at a roadblock, while taking another law enforcement agent prisoner and stealing a police car where he then drove to his farmhouse.
Local residents said the well known poacher had a history of hassling police and licensed hunters, often leaving the heads of dead animals on roads.