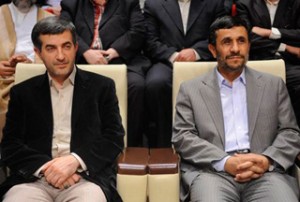 President of Azerbaijan Republic Ilham Aliyev stressed necessity for expansion and deepening relations with the Islamic Republic of Iran.
In a meeting with Head of Iran's presidential office, Esfandiar Rahim Mashai, in Baku on Thursday, Aliyev referred to the common history, religion and culture of the two countries and said IRI and Azerbaijan Republic enjoy potentials for boosting bilateral cooperation in political, economic and cultural fields expressing hope that mutual ties would be increased soon.
Mashai, for his part, stressed Tehran's readiness to use all its potentials and capabilities for expanding bilateral ties.
He added hegemonic powers, the international Zionism and ill-wishers of the two countries fear from boosting IRI-Azerbaijan Republic friendly relations and try to damage the ties.
Mashai said regional and neighboring countries should preserve and expand security of the region without interfering of ultra-regional forces, adding only in that condition, the grounds would be paved for proper investment on important economic projects in the region.
Mashai also submitted a letter of President Mahmoud Ahmadinejad to his Azeri counterpart.