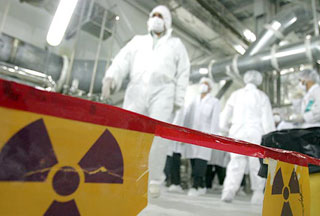 Bahraini Crown Prince Sheikh Salman bin Hamad al-Khalifa has defended Iran's peaceful nuclear program and advised the country to maintain its strong stance on its nuclear rights.
In a meeting in Manama on Saturday, the Bahraini crown prince told Iranian Foreign Minister Manouchehr Mottaki that his country would not allow foreigners to undermine Iran's nuclear rights in the region.
He praised Iran's constructive collaboration with the international community and expressed hope that Tehran would stand firm in defense of its nuclear rights.
Bahraini Foreign Minister Sheikh Khaled bin Ahmed bin Mohammed al-Khalifa also expressed support for Iran's right to use nuclear energy for peaceful purposes, noting that the nuclear talks between Tehran and the West failed because the Arab states of the Persian Gulf were not invited to participate, AFP reported.
In an address delivered on Saturday at the Manama Dialogue, a regional security conference organized by the International Institute for Strategic Studies, the Bahraini foreign minister said that a flawed process should not result in new sanctions on Iran.
"Somebody's trying to do business while we're not there, while we're not present in that room," he stated. "This is the fundamental mistake of how these talks were conducted. I think that is the main reason why the talks failed."
The nuclear talks were only held between Iran and the world's major powers, "not the countries that have the fear of whatever is going on and not being consulted and not being involved," Sheikh Khaled said.
"To move from a wrong system of talks and to put sanctions on the people of Iran is not fair," he added.
Iran, a signatory to the Nuclear Non-Proliferation Treaty (NPT) and a member of the International Atomic Energy Agency (IAEA), says its nuclear program only seeks civilian applications of the technology.
However, the West accuses the country of seeking to develop nuclear weapons.
But the IAEA, which is continuously monitoring Iran's activities, says there is no evidence proving the West's allegations. However, the IAEA has asked the country to increase its cooperation to clear up the remaining ambiguities.
In a draft statement issued on Friday, European Union leaders warned that the EU will accompany the UN Security Council in punitive action should Iran fail to provide a 'clear response' over its nuclear activities.
The statement comes as the United States, Britain, and France are calling for additional sanctions to be imposed on Iran.
The UN Security Council previously issued three sanctions resolutions against Iran over its nuclear program.
The Bahraini foreign minister also warned of the possibility of a confrontation between Israel and Iran and described it as "perhaps the most fearsome threat to the region."
"Lives will be lost, vital resources will be put in jeopardy, the world economy will undoubtedly suffer, and all our efforts toward regional development and prosperity will be significantly hindered" if such a conflict takes place, he said.