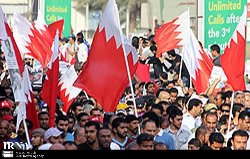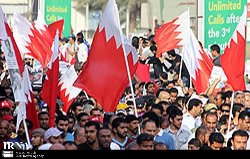 An informed source in Bahrain said here Wednesday people's peaceful protest demonstrations continue despite the horror and terror policies pursued by Bahrain government.
Speaking with IRNA Wednesday evening, he added, "The people chant the Allaho Akbar slogan at night from the roof tops of their homes and demonstrations are held and organized by the youth at various districts, despite the presence of the Saudi occupiers."
The informed Bahraini source added, "The Bahraini youth adopt new strategies each day and take aback the regime with their demonstrations and protests, having no fear of getting martyred."
He said, "The people of Manama on Tuesday participated at the funeral procession of Martyr Bahyeh al-Radi and turned it into a huge demonstration, for instance."
The informed Bahraini source added, "This lady was shot from a remote distance and dies after being transferred to the hospital."
He meanwhile referred to the factory workers' protests after the entry of the Saudi occupier forces and their attacks against the Bahraini peaceful demonstrators, arguing, "The government has due to these factory workers' strikes been faced with economic paralyze, summoned the head of the Factory Workers' Syndicate, and warned him to announce that the strike has ended.
The informed source added, "The head of the syndicate announced after being threatened by the government officials numerous times that the workers can return to their work places if their lives are not at stake."
He pointed out that due to the announcement of martial law, the people are almost imprisoned in their homes and they can rarely frequent in the city, which makes it more difficult for the youth to program the continuation of the protests, but they surprisingly do so!