Syria
Middle East
North America
Base housing US occupation troops, allied militants in SE Syria comes under drone attack
A military base in southeastern Syria near the borders with Jordan and Iraq, where US occupation troops and their allied Takfiri militants are stationed, has come under attack by armed unmanned aerial vehicles.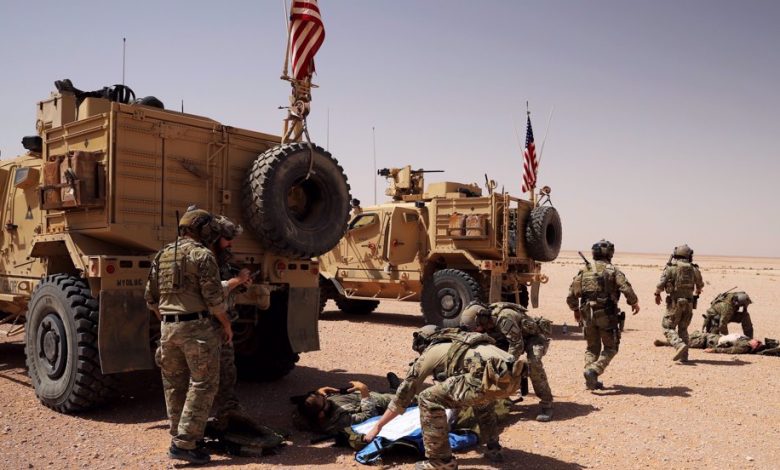 The US military said in a statement that the attack took place in the vicinity of al-Tanf base, adding that there were no reports of casualties or damage. There was also no claim of responsibility for the air raid.
The statement asserted that American forces in coordination with the US-backed and so-called Maghawir al-Thawra terrorists "responded to an attack by multiple unmanned aerial systems in the vicinity of al-Tanf Garrison" on Monday.
It said US troops engaged one of the drones preventing its impact while a second one detonated within the compound run by the Takfiri militants. The other attempted drone strikes were apparently not successful.
Last month, the US military purportedly armed allied Takfiri terrorists in southeastern Syria with the M142 High Mobility Artillery Rocket System (HIMARS).
Maghawir al-Thawra terrorists published a picture, showing the launch of HIMARS units during military exercises in the strategic al-Tanf region.
The militant group said that the launch showed its members' skills and capability to defend themselves against any potential attack, apparently referring to an earlier Russian raid that targeted them in al-Tanf region.
The development came a few days after anti-Damascus Takfiri militants conducted joint military exercises with American forces in al-Tanf region.
The drills purportedly included sniper training exercises, direct ground combat, strike operations with various types of missiles and rockets, in addition to training courses on raising awareness and drawing up military plans.
The M142 HIMARS system is a modernized, lighter and more agile wheel-mounted version of the track-mounted M270 MLRS developed in the 1970s for US and allied forces.
HIMARS units carry one preloaded pod of six 227mm guided missiles (the M270 carries two pods), or one large pod loaded with an Army Tactical Missile System (ATACMS) tactical missile.
With a small crew, the HIMARS can remove a spent pod and load a fresh one in minutes, without other vehicles helping.