Syria
Battles among terrorists in Idlib continue, as Syrian Army hits their headquarters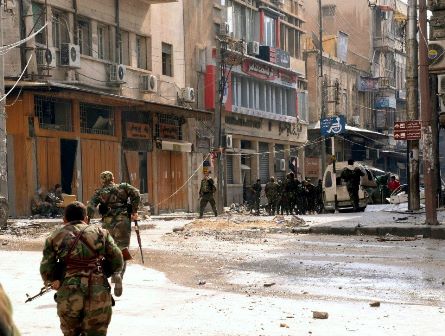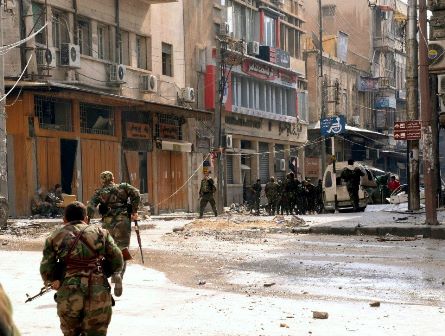 Units of Syrian Arab Army in collaboration with the National Battalion of Special Missions have ambushed armed militias between Kafrlata – Ma'arlbeet towns of al-Arbaeen Mount in Idlib countryside.
Breaking News Network correspondent to Idlib pointed out that this ambush has caused the killing of 8 insurgents and the injury of others besides destroying a vehicle equipped with Dushka machinegun as well as a Pickup car that was carrying gunmen.
Ibrahim Mohamed Qassoum, Mohamed Adnan al-Nayef, Khaled al-Mahmoud and Ahmad Taha were identified among the killed gunmen.
Units of armed forces targeted sites of militants in al-Melind village of Jessr al-Shughour countryside and also both towns of Kafrnubul and al-Dar al-Kubra, killing and wounding a number of gunmen besides destroying many of their vehicles, our reporter said.
Army units targeted locations of militants' vehicles in the city of Saraqeb and the farms surrounding it, the thing that led to the destruction of a number of vehicles that were equipped with machineguns. As a result, the units managed to kill and injure a considerable number of gunmen.
Syrian Arab Army's air forces have struck a position for militant in the clashes location, the thing that led to the killing of 7 gunmen and the injury of others. The leader of "Shuhadaa Abu al-Zuhur battalion", Daif al-Kayari was identified among the dead militants.
Battles among militias continue
Clashes took place between two of the armed militias in the town of Tal Amarah of the border city of Salqeen in Idlib countryside following a dispute over loot division. The clashes resulted in the death and injury of many fighters from both groups – Ahmad Haj Ali was identified among the dead.
Also battles erupted between two other militias in Abu al-Zuhour town following disputes and accusation of dealing with Syrian Army; both sides sustained casualties due to the clashes.