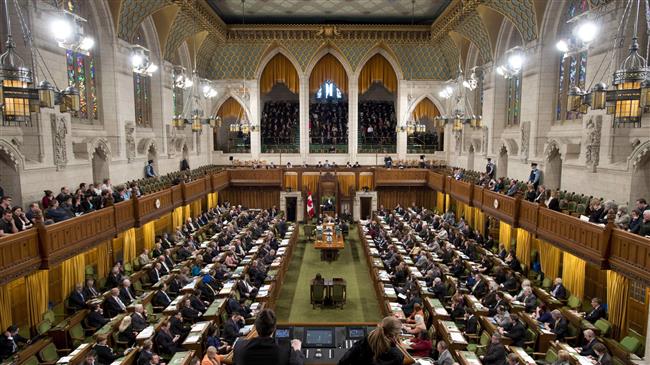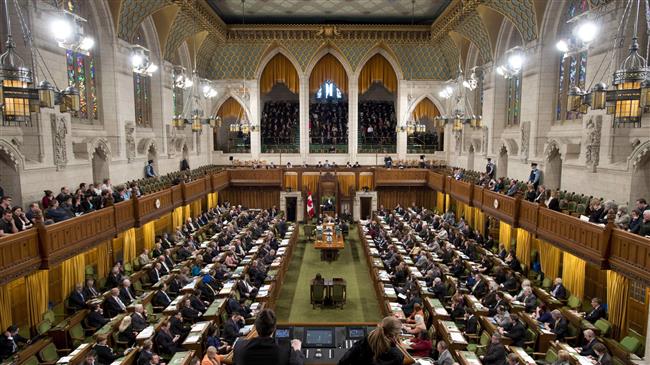 Iran has condemned the Canadian House of Commons' vote in favor of a draft law restricting ties with Tehran, rejecting the claims in the bill, which it says will be to Ottawa's detriment.
In a hostile move on Tuesday, the Commons approved the bill, introduced by Conservative MP Garnett Genuis, which called on the Canadian government to "immediately cease any and all negotiations or discussions with the Islamic Republic of Iran to restore diplomatic relations."
The measure also accused Tehran of "sponsorship of terrorism around the world" and designated Iran's Islamic Revolution Guards Corps (IRGC) as a "listed terrorist entity" under the Canadian Criminal Code.
Under Canadian law, a bill is required to through a voting process in the Senate after passing the House of Commons. Once the bill gets the approval of both chambers, it is given Royal Assent and becomes law.
Responding to the move on Wednesday, Iran's Foreign Minister Mohammad Javad Zarif, who was returning from a visit to South Africa, denounced Canada's "misconceptions and illusions" about the Islamic Republic.
"These polices will be to Canada's detriment and will not serve international peace and security," he said, calling on Western countries to adopt independent policies towards Iran.
"Iran has always been on the front line of the fight against terrorism and without our country's efforts and support, the situation in the region would have been different," Zarif added.
Additionally, Iran's Foreign Ministry spokesman Bahram Qassemi expressed dismay at the Canadian legislative body's pursuit of the anti-Iran motion.
The measure, he said, is still in its initial stages, adding, however, that its "final approval will undoubtedly be a strategic and major mistake entailing destructive consequences."
The bill shows that Canadian lawmakers lack precise information about Iran's clear and logical positions on fighting terrorism, Qassemi noted.
He also stressed that the world's public opinion would never accept "delusional and wrong allegations" against the country.
The spokesman further warned against the repercussions of passing the "injudicious and baseless" measure and expressed hope that the Canadian government would prevent it.
In 2012, the administration of former Canadian Prime Minister Stephen Harper severed diplomatic ties with Iran, citing, among other pretexts, what it described as continued threats from Tehran to its ally, Israel.
The House of Commons' move came while the government of current Prime Minister Justin Trudeau had been voicing willingness to resume ties with Iran almost since it took office in late 2015.
Ottawa had said in late 2016 that it would act "in a speedy fashion" to normalize ties, and diplomats of the two countries have been in talks over the resumption of ties.